Bloo Halloween Bounce Dual Slide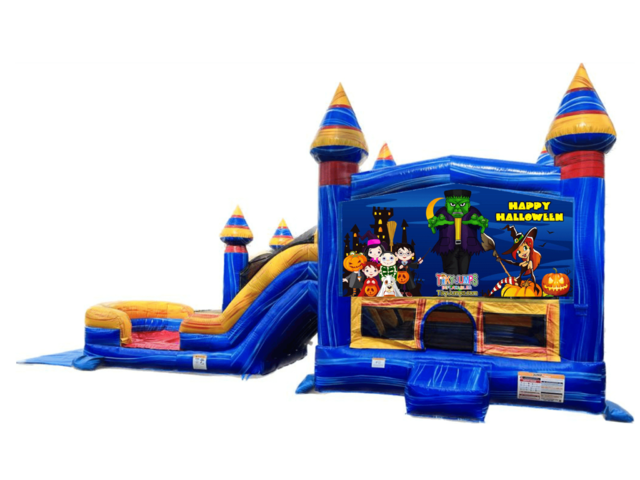 | | |
| --- | --- |
| Up to 4 Hours | $395.00 |
| 5 - 8 Hours | $454.25 |
| Overnight | $513.50 |
| 2 Day Rental | $592.50 |
Description
Get ready for a spine-tingling, scream-inducing Halloween adventure like never before with the Bloo Halloween Bounce Dual Slide! This thrilling inflatable attraction is the perfect centerpiece for your Halloween festivities, designed to send shivers down your spine while delivering endless fun.
Standing tall, the Bloo Halloween Bounce Dual Slide commands attention with its sinister design. Its facade is adorned with ghoulish grins, eerie pumpkins, and eerie bats that will set the mood for a spooky soirée. Lit with eerie LED lights, it casts a haunting glow across your yard or party venue as the sun sets.
This fantastic structure offers not one, but two spine-chilling slides that are sure to keep your guests entertained for hours. The towering dual slides twist and turn, adding an element of surprise and anticipation to each descent. Watch as thrill-seekers of all ages brave the slides, screaming with delight as they plunge into the abyss of Halloween excitement.
Inside, the Bloo Halloween Bounce Dual Slide boasts an expansive bounce area adorned with spider webs and lurking specters, creating a hauntingly inviting space for the little ones to jump, bounce, and unleash their inner ghosts and goblins.
Safety is paramount, and the Bloo Halloween Bounce Dual Slide ensures peace of mind with its reinforced seams and durable construction. It's made from high-quality, fire-resistant materials, designed to withstand hours of thrilling Halloween action. The enclosed design also keeps little monsters safe as they navigate the twists and turns.
Setting up this Halloween masterpiece is a breeze, and it's suitable for both residential and commercial use. Invite the neighborhood over for an unforgettable Halloween bash, or rent it out for a haunted house attraction that's sure to draw crowds.
The Bloo Halloween Bounce Dual Slide will become the talk of the town and the highlight of your Halloween festivities. It's the perfect addition to create spine-tingling memories for your family, friends, and guests. So, this Halloween, dare to take the plunge into an unforgettable experience with the Bloo Halloween Bounce Dual Slide – where thrills and chills await!