Ghastly Purplish Bounce Dual Slide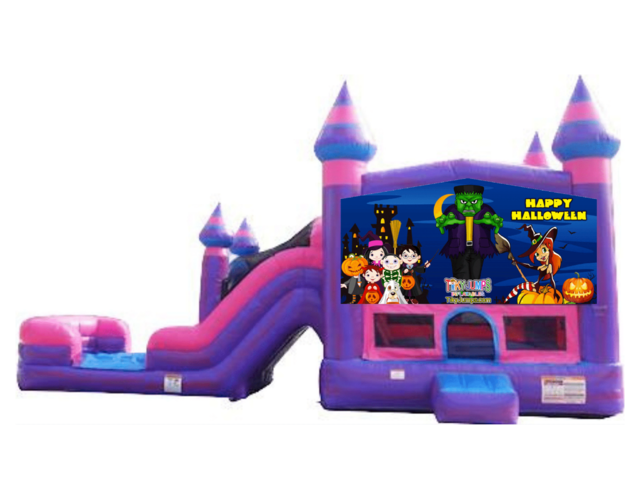 | | |
| --- | --- |
| Up to 4 Hours | $395.00 |
| 5 - 8 Hours | $454.25 |
| Overnight | $513.50 |
| 2 Day Rental | $592.50 |
Description
Introducing the Ghastly Purplish Bounce Dual Slide – the ultimate Halloween attraction that will send shivers down your spine while delivering endless fun and thrills! This spine-tingling slide is designed to be the centerpiece of your Halloween festivities, promising a wickedly good time for all ages.
Standing tall, this ghoulish masterpiece boasts a mesmerizing color scheme of eerie purples and ominous blacks, adorned with creepy cobweb patterns and ghostly, luminous accents that come to life in the moonlight. The dual slide setup adds an element of suspense and competition, making it perfect for group gatherings and haunted house events.
As you approach the Ghastly Purplish Bounce Dual Slide, you'll be greeted by the unsettling cackles of witches and the eerie howls of ghosts, setting the tone for a hair-raising adventure. The slide's surface is remarkably smooth, ensuring a seamless glide for daring souls willing to take the plunge. But beware, lurking surprises await those who dare to ascend.
The top of the slide features a mysterious and mystical bounce platform that adds an element of unpredictability to the descent. As you bounce your way to the top, you'll feel your heart racing, not just from the exercise but from the anticipation of what lies ahead. Once at the summit, you'll be greeted by a bewitched archway, leading to the twin slides that promise to send you spiraling into a world of darkness and excitement.
With each descent, riders will feel the thrill of gravity pulling them through twists and turns, making it impossible to predict their final landing spot. The Ghastly Purplish Bounce Dual Slide ensures that every ride is a unique, heart-pounding adventure, and you'll find yourself coming back for more, just to experience the eerie rush again.For Halloween enthusiasts, this spine-chilling attraction is the perfect way to celebrate the season of scares. It's an invitation to embrace the unknown, face your fears, and create unforgettable memories with friends and family. So, dare to conquer the Ghastly Purplish Bounce Dual Slide, and let the screams of delight and terror echo through the night, making your Halloween celebration truly unforgettable. This year, give your guests the gift of Halloween thrills with an experience that defies the ordinary and leaves them craving more of the unknown.