Tiky Jumps is proud to provide the best selections for a top-quality bounce house rental Germantown TN counts on for hours of exciting play at any party or celebration. For one low price, we deliver and set up quality, safe, and clean bouncers, slides, interactives, games, concessions, tents, tables, and chairs at your event. We proudly serve Germantown, Tennessee, and a wide area of Shelby County with the best inflatable bouncers in the industry.

We're proud to serve the area as a local, family-owned and operated supplier of options for a bounce house rental Germantown TN counts on for affordable party entertainment. Our excellence in customer service shows with our caring staff guiding you to a successful event with our wide range of event rental options at great prices you'll appreciate. We've got you covered for all of your event necessities, from tents, inflatables, games, generators, and more. Our rentals are superior in quality, clean, and safe, making your party planning a breeze. When you partner with our local team, in just minutes, you will put together a complete package for your party.

For the best bounce house rental Germantown TN can provide, browse our vast selection and range of options for your event. Treat your guests to the best in entertainment with the area's premier inflatable bounce houses, wet and dry slides, obstacle courses, games, and more. For the best deal on quality event rentals, area party planners know Tiky Jumps is above all the rest. Take a tour of our options, flexible rental times, and pricing, and you'll see why we are the area's first choice in event rentals. Start by clicking the red "Book Now" button and entering your party date, then start scheduling today for your upcoming party. Make your reservations in minutes using our online system, or call us at (901) 300-0417 if you need assistance or have questions. We're here to help make your upcoming party one to remember!
Order-by-Date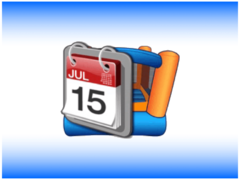 New Inflatables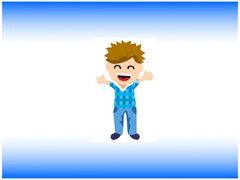 Water Slides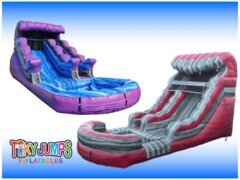 Bounce House Slide Wet or Dry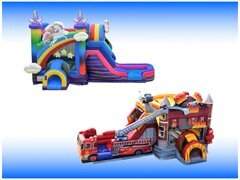 Just for toddlers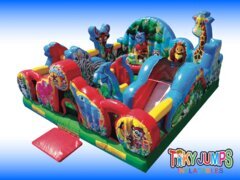 Obstacle Courses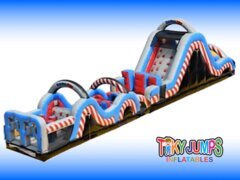 Interactive Games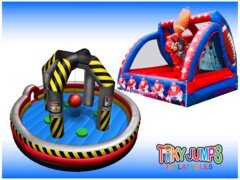 Disney Licensed Inflatables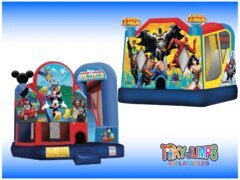 Carnival Games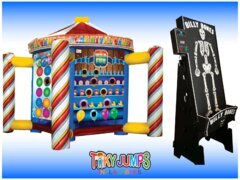 Fun Foods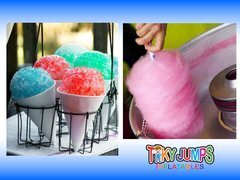 Tables and Chairs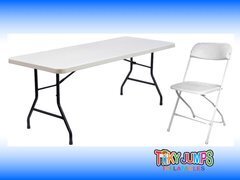 Canopy Tents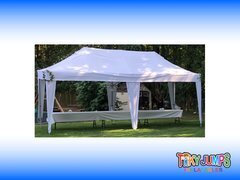 Party Extras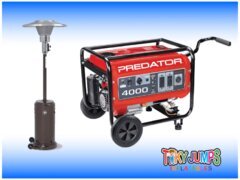 Dunk Tank Rental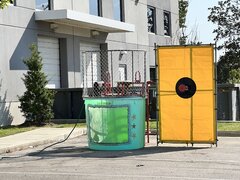 Memphis Trackless Train Rentals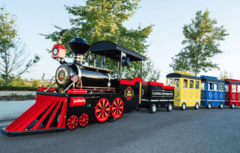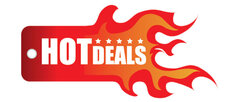 Hot Deals
" />
Inflatable Dry Slides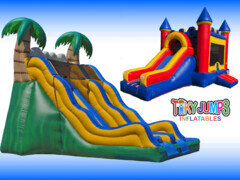 Bounce House-Slide Dry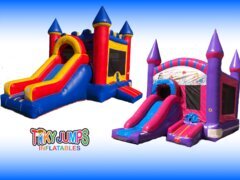 Bounce Houses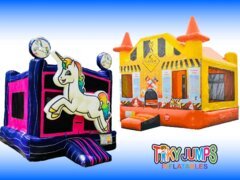 Choose a Bounce House Rental Germantown TN Guests Love at Every Event
Choose a bounce house rental Germantown TN parents, grandparents, church leaders, school administrators, corporate leaders, and community organizers place their trust in for a special day filled with fun. Our high-quality inflatables never disappoint. No matter your reason for celebrating, we carry inflatables that party planners love for their entertainment value. We deliver moonwalks to backyard birthday parties and BBQs, family fun days at community centers, grand openings at local businesses, church group festivals, and other fun-filled events.

Our bounce house rental Germantown TN is the ultimate in affordable entertainment, keeping partygoers engaged for hours at a time. For one low price, you can rent bounce house in Germantown TN, and your guests of all ages will enjoy a carefree afternoon. All of our bouncers are well-ventilated with large screen portions that allow for excellent airflow and high visibility into the jump. Parents love our jumps at kids' parties because our industry-leading inflatables not only provide fun, but they do so in a safe manner. Parents can relax and enjoy the party as well when the kids are being entertained in a healthy way. Schedule your party inflatables for your upcoming summer camp, family reunion, community holiday celebration, or anytime you want to treat the kids to some backyard fun. Click on the red "Book Now" button to get started on the best value in party entertainment you can find!
Selections of Outdoor or Indoor Bounce House Germantown TN goes Crazy For
Choose from the different types and themes of outdoor or indoor bounce house Germantown TN offers for every celebration, and use our online tool to reserve yours in just a few minutes securely. You won't find a more extensive selection of popular themes or big, bold color schemes that thrill partygoers for hours than with our collection. Your guests of all ages will be bouncing, jumping, and climbing all throughout the party in a safe manner when you rent bounce house Germantown TN kids can't get enough of that is well-ventilated and provides parents full view of their jumpers while they're inside having a blast.

To help you find the ideal toddler, teen, or adult bounce house rental Memphis TN raves about for your upcoming indoor or outdoor party, our team has assembled the most extensive inventory in the area. Our prices are based on up to four hours of rental time, with affordable time extensions available so the fun never stops. Check out a few of our popular options below and schedule online today!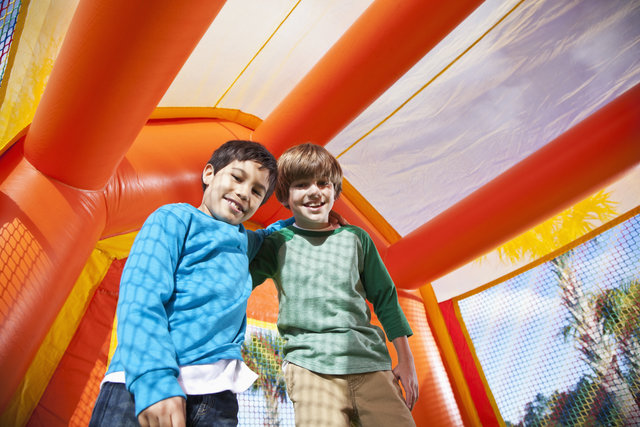 Birthday Cake Dazzling Bounce House: This rental offers pure excitement for a birthday celebration! Our birthday cake bouncer creates a unique centerpiece at your child's party where your child is the center of attention. This exciting bouncer begins at $185 for up to four hours of use.

Firefighters Bounce House: This bouncer is perfect for the kiddos who love our hero firefighters and fire trucks! Bring the excitement of a fire station to your backyard for just $185 for up to four hours of fun.

Unicorn Bounce House: Sparkling and magical, this bounce house is an exciting addition to any birthday party, slumber party, or summer camp. This rental begins at $190 for up to four hours of rental time.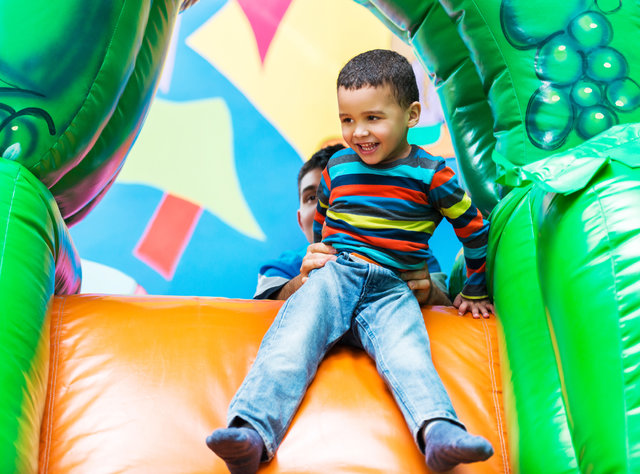 Why Choose us for the Bounce House Germantown TN Kids and Adults Prefer
Choose the bounce house Germantown TN trusts and partner with a local, family-owned company that caters to your specific party needs. Whether you're entertaining a few friends in your backyard or hundreds at a corporate event, Tiky Jumps is the area's go-to source for event rentals. Trust a local leader when you need a clean, safe, and exciting large or small bounce house rental Germantown TN counts on for dependable entertainment at every indoor or outdoor event. You'll appreciate our commitment to the success of your event and our overall professionalism.
Our industry-leading options are superior in their safety rating when used by the recommended age group for that particular unit. As a fully licensed and insured company, safety is just as much of a priority as fun and entertainment. We work with reputable manufacturers to ensure our equipment is state-of-the-art and designed with security and longevity in mind. Each of our bouncers is equipped with ventilated mesh windows and an inflatable ramp for safe entry and exit. We carry age-specific options to ensure each attendee has a memorable experience at your upcoming event.

When you partner with our team, you can rest easy and enjoy your event knowing that we will handle the delivery, assembly, and pick-up. Trust that our knowledgeable crew will professionally deliver and set up the perfect toddler bounce house rentals Germantown TN kiddos go crazy for on time and budget. Give our support staff a call with any questions about availability for your party date or to reserve your rentals over the phone. We are here to help create an event or celebration that you can be proud of with the best rentals available in the area, and we have the 5-star reviews from our loyal customers to prove it.
Book a Bounce House Rental in Germantown TN Online for Your Upcoming Event
We've simplified the process of booking a bounce house rental in Germantown TN with our convenient online booking tool! Browse our available selections, learn more about individual products, and schedule a delivery anytime from any smart device. If you've set your party date, now is the time to search for and reserve your exciting Memphis TN bounce house rental Memphis, TN rates 5-stars. Start by clicking on the red "Book Now" button at the top right corner of our website.

Select your party date from the pop-up calendar, and choose your party start and end time.
Choose from our wide range of options available for your date and click the "Add to Cart" button.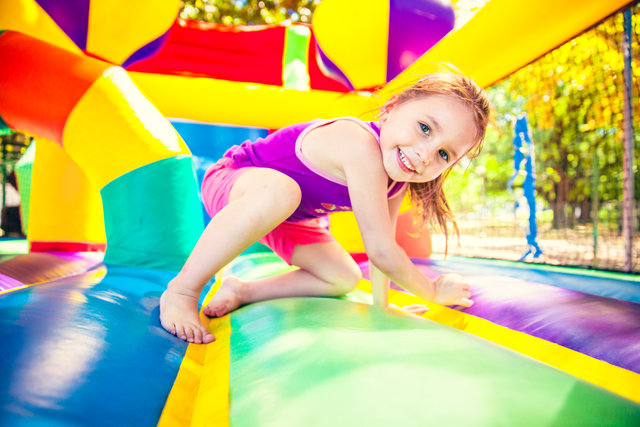 Select any add-ons you need including a generator or heavy-duty extension cord.
Look over the summary of your order and fill out the contact information form, then either click "Continue Shopping" and complete your event package with tables, chairs, and concessions, or click the "Checkout" button to finalize the reservation.
Enter the event location and deposit payment using any major credit card.

It's that simple to reserve the best bounce house rental in Germantown TN! We'll email a copy of your receipt and signed digital contract, and one of our customer service representatives will contact you a day or two ahead of your party date to confirm a delivery window that works best for your party needs. We look forward to providing you with excellent service on your special day!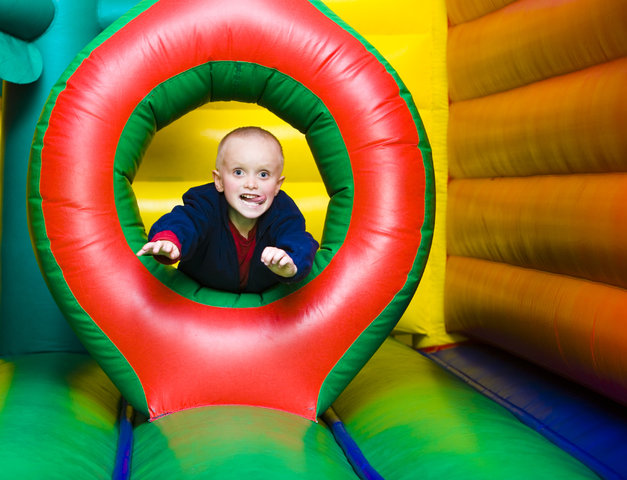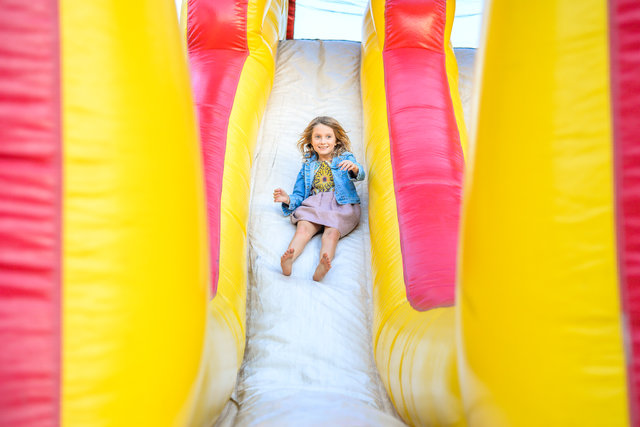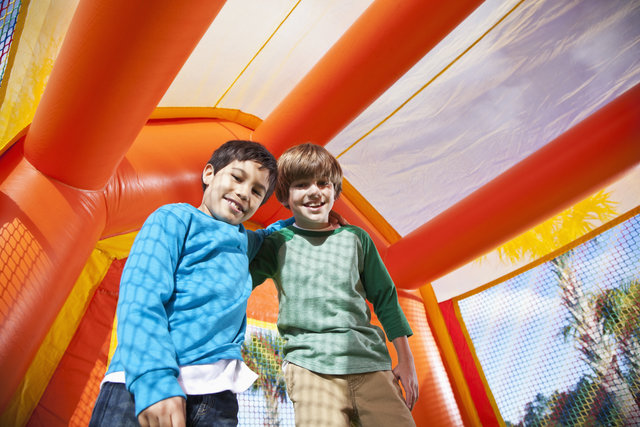 The Tiky Jumps Guarantee
Your Inflatable delivered before your rental time starts.
Clean, disinfected and sanitized inflatables.
Fully licensed and insured, we hold a TN amusement permit.
Safe Inflatables, all our inflatables are yearly inspected by naarso.
Insurance proof upon request at not extra cost.
We love what we do!

100% Customer Satisfaction.
200+ Google 5 stars reviews.
30+ Facebook recommendations.
World-Class customer service that works with you.
Free and convenient online booking 24/7.
Delivering Inflatable Bounce House Rentals Germantown TN Depends on for Celebrations
We deliver
inflatable bounce house rentals Germantown TN
parents, church leaders, school administrators, and business owners turn to for trusted equipment and customer support that never lets you down. Our popular styles and themes provide thrills at every indoor and outdoor event across the area, including the towns of Germantown and East Memphis in Shelby County. If you're searching for
bounce house rentals Bartlett TN
can count on, you're in the right place!
No one can beat our equipment or professional service, making us the #1 choice for bounce house rentals Germantown TN raves about for events and celebrations in the following zip codes: 38138, 38139, and 38183. Get the bounce house rentals near Germantown TN you can trust from our local team, whether you're holding your event at your residence or one of our beautiful local parks, including Cameron Brown Park, Germantown Athletic Club, and Riverdale Park. Make sure to include a generator, tables, chairs, and anything else you need to host a fun-filled and long-lasting event at a public venue!
We often partner with local municipalities and the Germantown Municipal School District to deliver the best rentals for their reward days and special events. Our city is an enticing and exciting place to visit with local landmarks like the Germantown Historic District, Germantown Performing Arts Center, or Bobby Lanier Farm Park adding to the appeal. We're proud to contribute to our wonderful city as a locally owned and operated business providing fun for every occasion! You no longer have to spend hours searching for the perfect bounce house near me Germantown TN can't get enough of with our fabulous selections and services!
NOTE: Extra fees may vary depending on how far you are outside our service area.
FAQs for Bounce House Rentals in Germantown TN
If you have questions about bounce house rentals in Germantown TN, our team at Tiky Jumps is here to help! We want our customers to be completely comfortable renting and using our inflatable jumps and slides, so we've compiled a list of frequently asked questions for you to browse at your convenience. Let us know if you have any other questions, and we'll be happy to guide you through the process and provide more details.
Q.
Where can inflatable rentals be set up?
A.
Inflatable bounce houses and slides can be set up in various safe locations. It's essential to check the area for any potential hazards. Avoid areas with roots coming out of the ground, rocks, fire ants, and pet droppings. Don't forget to be mindful of low-hanging branches in the set-up area. Keep in mind that bouncers and slides are very tall. Choosing a spot on level ground with a grassy surface is ideal, but hard surfaces such as asphalt and concrete will work also. Proper preparation will ensure quick delivery and setup and a fun experience for all.
Q.
How long does it take to set up?
A.
With no obstructions or debris in the path to set up, most bounce house rentals in Germantown TN and inflatables take approximately 20 minutes to assemble.
Q.
What if we want to keep the bounce house longer?
A.
Our prices are based on up to four hours of rental time. We are pleased to accommodate our customers who need a longer playtime with our rentals. We offer these amazing options:

Good Deal: Extra time- five to eight hours, 25% more than the base price. Better Deal: Overnight- 35% more than the base price. Best Deal: Multiday- Pay the first day's displayed price and the following days are just 50% more per day.

We understand many customers are searching for a cheap bounce house Germantown TN parents can depend on, which is why we provide budget-friendly options, no matter the rental period! Taxes are not included. Holiday pricing may be subject to change. Give us a call with any questions about extra rental time pricing.
Q.
What are my responsibilities as the renter of the bounce house?
A.
As the renter, you must assign a responsible adult to supervise the kids while the inflatable is in use. This adult must know all of the safety rules and make sure that the bounce house is used safely. You are ultimately responsible for the safety of your guests and the care of our rental equipment while it is in your possession. If you have questions regarding the safe use of our inflatables, don't hesitate to call us.
Reviews for Bounce House Rentals, Germantown, TN Gives 5-Stars!
Our reviews tell the story of our bounce house rentals, Germantown, TN, goes crazy for at any party, special occasion, open house, field day, or grand opening. We're the trusted local source for quality inflatable bounce house Germantown TN parents and kids prefer for hours of jumping fun, no matter the cause for celebration. Take a look at a few of our valued customers' reviews below and schedule a delivery online today!
"We loved the pumpkin themed bounce house. The set up crew arrived on time and wiped down the bounce house before leaving. Everything was perfect." -J. Stokes
"From ordering online to tearing it down, the process was painless and so easy!! Communication from the company is wonderful. Our daughter had a blast on her bouncy castle, as did all the kids at the party! Thanks Tiky Jumps!!" - M. Seward
"We love Tiky Jumps Inflatables! We had our bounce house longer than what was scheduled and we thoroughly enjoyed it. It was clean and the set up was perfect. The prices were awesome too. We couldn't have asked for a better experience! We will definitely be renting again and again." -M. Muhammad