Party Rentals Memphis TN
Book the best party rentals Memphis TN has to offer from Tiky Jumps Inflatables! We're your neighborhood's go-to for the best party rentals, event furniture, interactive games, inflatables, and more. As a locally-owned business, lighting up parties with an unbeatable blend of fun and community spirit is our passion, along with providing top-quality customer care that exceeds expectations.

What's our recipe for throwing the best parties? Providing top-quality event rentals Memphis TN can rely on. We're the trusted name when it comes to adding that extra touch of fun to your celebrations - all while keeping it local and community-driven. Whether you're planning a grand event or an intimate gathering, our selection is brimming with everything you need. From carnival games to Disney inflatables, and from canopies to event furniture, we have the best party rentals Memphis TN can't get enough of. Each rental isn't just a product; it's an opportunity for healthy, active fun that brings people together.

But we're not just about providing great rentals; we make sure the experience is easy and enjoyable too. From the moment you pick up the phone or visit our website to the moment our team waves goodbye after a successful delivery, you'll experience the difference. We're not just a party rental company. We're a part of your community, a fixture at your celebrations, and a friend you can always count on. Proudly serving Memphis, Tennessee, and the surrounding areas of Shelby County, we're all about making your event one to remember.

So when you think about your next event, remember Tiky Jumps. With our standout selection, unparalleled service, and local charm, we're here to make every celebration a slam dunk! Create unforgettable memories and book the top party rentals Memphis TN won't want to miss out on.
Tiky Jumps Inflatables, LLC. 5 ⭐ Party Rental Company
Show Primary and Secondary Categories Product Name
$0 Product Name
$0 Product Name
$0 Product Name
$0 Product Name
$0 Product Name
$0 Product Name
$0 Product Name
$0 Product Name
$0 Product Name
$0 Product Name
$0 Product Name
$0
Exciting Party Rentals Memphis Tennessee Uses for All Events
Choose the party rentals Memphis Tennessee can count on for all their party essentials. We're here to talk about all the magical ways you can spruce up your next event with our epic equipment! We have the kids party rentals Memphis TN won't want to miss. Imagine it's field day, and the kids are clamoring for action-packed fun. Bring on our obstacle courses! They're perfect for little athletes to test their agility, speed, and strength. Or perhaps you're throwing a family gathering where the young ones can't get enough adventures. No problem! How about our Disney inflatables to transport them to a fantasy world?

Speaking of kiddie parties, have you ever thought about a trackless train ride to add excitement and endless entertainment to your upcoming event? It's like bringing a mini amusement park right to your backyard, making your little one's birthday the talk of the town! And for family reunions, we've got the equipment to handle the hungry hordes. Our hot dog roller machines are a big hit with all ages. And the sweet tooth in your family?

They'll love our cotton candy machines, snow cone machines, and popcorn machines. You'll be making memories and munching at the same time! Let's not forget the cherry on top - our fun-filled carnival games and handy rentals like nacho machines and generators. They're the secret ingredients to a seamless and successful party! Whether it's a small gathering or a grand event, Tiky Jumps has the perfect rental for you. We cater to all age groups and guest lists. From toddlers to grandparents and all the fun-loving folks in between, everyone loves the thrill of a fun-filled event. Let's dream big, celebrate louder, and party hard. We provide party rentals Memphis Tennessee can't get enough of and we're confident your entire guest list will have a fun-tastic time!
Our Wide Selection of Affordable Party Rentals in Memphis TN
We have a vast selection of affordable party rentals in Memphis TN that you won't want to miss out on! We're ready to bring that wow factor to your event with our sensational party rentals. Let's dive into some of our all-star picks, shall we?

If you're looking for event rentals in Memphis TN that will take your party to the next level, our Inflatable Carnival 5-in-1 is a great choice. Priced at a fun $275.00, it's your one-stop shop for non-stop laughter and entertainment. Clown Toss, Tic Tac Toe, Candy Darts- you name it, we've got it!

Next up, calling all Mickey Mouse fans! Our Mickey Mouse Clubhouse Combo for $295.00 is a real crowd-pleaser. This is one of the best party rentals in Memphis Tennessee that the kids will love. Slide, jump, and have a blast with Mickey and his pals in this exciting inflatable combo.

We have a wide selection of inflatable party rentals Memphis TN can count on for fun. Need power to blow them up, but no outlet is around? We've got you covered with our generator for just $64.99. It'll keep the party going even when the sun goes down.

And who can resist the sweet allure of fluffy, melt-in-your-mouth cotton candy? With our Cotton Candy Machine, also at $64.99, you'll be the carnival confectioner everyone adores! This is a great addition to any party rentals Memphis, TN chooses to purchase.

Finally, ready for a little competition? If you're looking for classic party rentals in Memphis TN, our Ax Throw Rental for $64.99 is the perfect choice for a unique and entertaining challenge. Remember, with our company, you're not just renting party equipment - you're creating unforgettable memories. So let's bounce around party rentals Memphis, TN, and get this party started!
How to Book Birthday Party Rentals Memphis, TN Can Count On
If you're wondering how to book the best birthday party rentals Memphis, TN has to offer, you've come to the right place. Let's talk about how you can get your hands on the fantastic party bounce rentals Memphis, TN can't get enough of. We've made the booking process as easy as 1-2-3!

1) Navigate to the "All Rentals" section to browse our extensive range of party delights. Whether it's the Mickey Mouse Clubhouse Combo or the Ax Throw Rental, find the perfect fit for your celebration and click "Book Now."

2) Fill in the details: We'll need to know the when, where, and what of your event. Just follow the prompts to enter your event date, location, and rental details.

3) Confirm your booking: Once you've filled everything in, including credit card information to submit the required deposit, you'll receive an automatic email confirmation with all the details of your rental. Don't worry; it also includes a digital contract for you to review.

Prefer a human touch? Give us a call at (901) 300-0417. Our friendly team is always ready to assist you in booking your rentals over the phone. Once your booking is confirmed, we'll work with you to arrange a delivery window. On the big day, our team will deliver and set up your rental, making sure everything is perfect for your event. We make booking the birthday party rentals Memphis, TN can count on as easy as throwing the party itself. So, let's get this celebration started, shall we?

The Splash Zone Water Slide is more than just a rental; it's an embodiment of summer fun. Imagine the joy on the faces of children and adults alike as they plummet down the slide into refreshing waters, sharing laughter and creating shared memories.
Choose Tiky Jumps For the Best Memphis TN Party Rentals!
For the best Memphis TN party rentals available, choose our team of party professionals. Take a look at just a few of the reasons we're considered the #1 party equipment provider in the area and book online today.

Rave Reviews: Our customers aren't just customers; they're our biggest fans! Just check out our social reviews - they speak volumes about our team's experience and the quality of our Memphis TN event planning rentals.

Top-notch Equipment: We only stock the best, partnering with industry-leading manufacturers to bring you high-quality, safe, and fun party rentals. We have the best event lighting rentals Memphis TN needs to bring the shine to any party! Locally Owned and Operated: We're not just a business; we're a part of your community. We know Memphis, and we love serving our hometown.

Experienced Party Pros: With years of experience under our belts, we've perfected the art of throwing a good party. Community Partnerships: We work closely with local businesses, organizations, and churches to create memorable events that bring the community together.

Insured and Licensed: Your safety and satisfaction are our top priorities. We're fully insured and licensed, so you can party with peace of mind. There's no need to worry when you book the best bounce around party rentals Memphis TN offers.

Convenient Online Booking: We make it easy to bring the party to you. Just a few clicks on our website, and your equipment is as good as booked! We make it easy to rent the party supply rentals Memphis TN appreciates. Let's make your next celebration unforgettable with our Memphis TN party rentals. We're all about making incredible memories that last a lifetime.

Whether it's a birthday party or a themed event, our Trackless Train Event Entertainment is the perfect addition. It's more than just a ride; it's an attraction that brings people together and turns any gathering into a memorable adventure. Memphis Water Slide Rentals | Cool off with the Best Inflatable Slides in the Mid-South
Experience the Magic of Our Premium Themed Bounce House Combos Rentals in the Memphis Area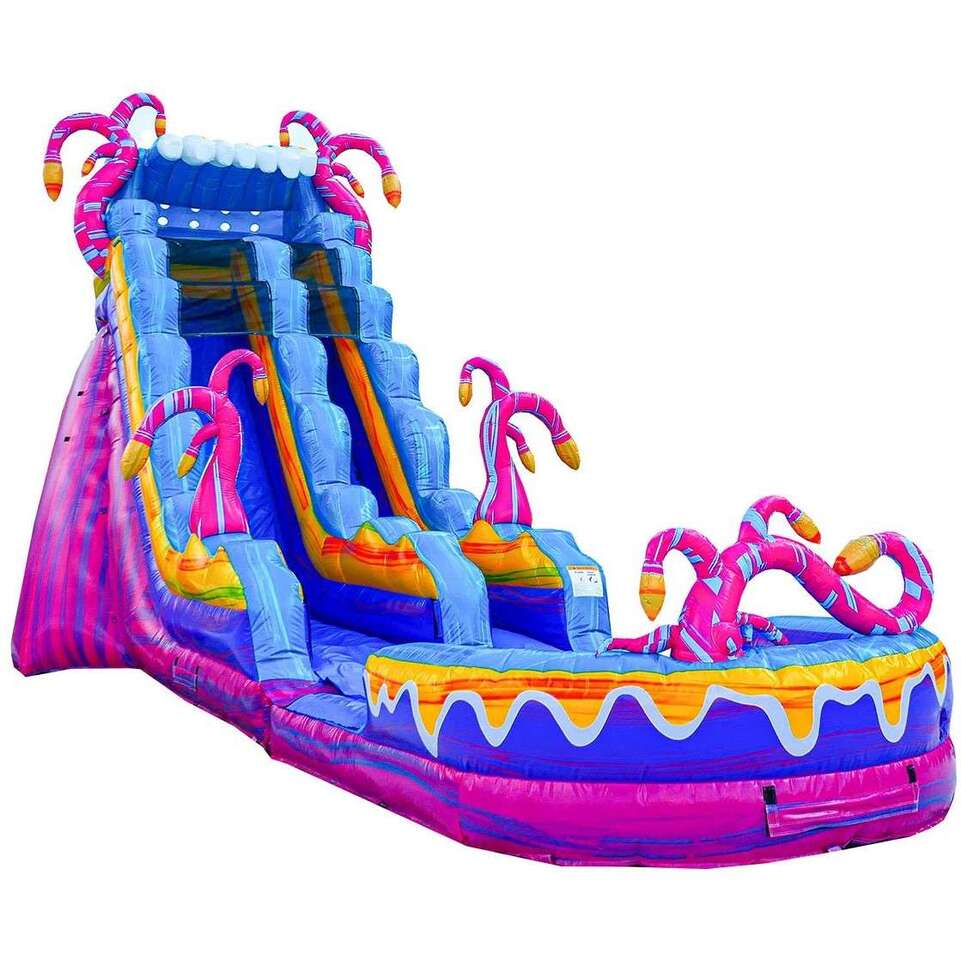 Delivering Top-Notch Party Rentals in Memphis TN
We're proud to deliver the best party rentals in Memphis TN and the surrounding areas of Shelby County! We're your local party rental superheroes, delivering fun and excitement to every corner of our beloved hometown. Whether you're planning a school event with one of the Memphis City Schools, a church picnic, or an outdoor corporate event, we've got you covered.

We're proud partners with our local school districts, churches, community organizations, and businesses, and we love to bring our unique brand of fun to your events. Are you hosting your event in a local park like Tom Lee Park, Martyrs Park, or Mississippi River Park? No problem! Our delivery crew is ready to set up your chosen rentals right where you need them. We even offer generators and extra party favorites to ensure your outdoor event is a total success! We're happy to offer delivery to the 38017, 38109, 38128, 38002, 38134, 38125, 38016, 38116, 38127, 38111, 38115, 38018, 38118, 38135, 38117, 38053, 38138, 38119, 38122, 38141, 38106, 38104, 38114, 38133, 38108, 38139, 38112, 38107, 38103, 38120, 38028, 38004, 38126, 38105, 38129, 38140, 38143, 38146, 38195, 38165, 38152, 38142, 38132, 38157, 38188, 38055, 38136, 38110, 37501, 38147, 38113, 38131, 38130, 38101, 38124, 38137, 38145, 38148, 38151, 38150, 38161, 38159, 38163, 38167, 38166, 38173, 38168, 38175, 38174, 38181, 38177, 38183, 38182, 38186, 38184, 38187, 38193, 38190, 38194, 38197, 37544, 38014, 38027, 38029, 38054, 38088, and 38083 zip codes, as well as to the charming cities of Bartlett, Germantown, East Memphis, and throughout Shelby County.

We're here to bring the party to you! Whether you're spending time touring Sun Studio or Graceland or learning about important history at the National Civil Rights Museum, our city is filled with So, Memphis, get ready to party with our crew because we believe every event should be memorable! Here's to making your next celebration the best one yet. Let's get the party started with top-quality party rentals in Memphis TN.
Service Area
FAQs About Party Rentals in Memphis TN
You have questions about our party rentals Memphis TN can't party without, and we have answers! Take a look at our FAQs below and get in touch with our team if you need any additional information before scheduling your delivery.
Q.
What types of events are suitable for your party rentals?
A.
Whether it's a kids' birthday party, field day, family reunion, or corporate event, our party rentals add a fun and entertaining touch to any occasion. We've got everything from the #1 obstacle course rental Memphis TN has to offer to dunk tanks and even fun food machines!
Q.
How far in advance should I book my party rental?
A.
To ensure availability, we recommend booking as soon as possible, especially during peak seasons like the summer. But we'll always do our best to accommodate last-minute bookings. We want to give you the best Yelp Memphis TN party rentals experience possible.
Q.
What areas do you deliver to?
A.
We deliver the classic party rentals Memphis TN can count on for their party needs to Memphis, Tennessee, and surrounding areas, including Shelby County.
Q.
What if I need to cancel or reschedule my rental?
A.
We understand that plans can change. Please get in touch with us as soon as possible, and we'll work with you to reschedule or cancel your booking as per our cancellation policy. We want you to have the easiest experience booking our classic party rentals Memphis TN can count on.
The Party Rentals Memphis Tennessee Locals Love
We're thrilled to say that we don't just deliver top-notch classic party rentals Memphis Tennessee wants to party with, but we also bring a level of service that leaves our customers raving! We're extremely proud of the positive reviews we regularly receive, and they're a testament to the hard work, dedication, and pure love for fun that our team brings to every event. Take a look at a selection of our 5-star reviews below and schedule a delivery online today!
The delivery and pickup were on time, and the item was clean and in good working condition. The rental and payment processes were a breeze!
-Melissa Z.
We have been using Tiky Jumps for years, and our children always enjoy it. The staff is always friendly, sets up quickly, and leaves the area clean after the parties.
-Thomas G.
These guys are the absolute best! We had a construction party theme, and getting the skid loader bounce house/water slide combo made the party perfect! The kids absolutely loved it, and my construction loving little boy went nuts when he saw it! These guys were on time, set it up fast, and were very helpful! We will definitely use them again!
-Taylor H.
Previous
Next