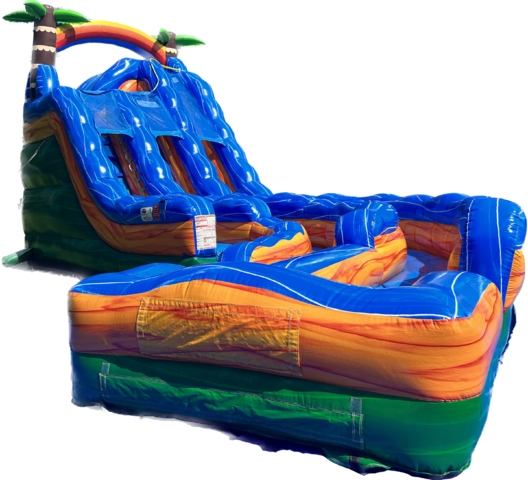 | | |
| --- | --- |
| Up to 4 Hours | $450.00 |
| 5 - 8 Hours | $517.50 |
| Overnight | $585.00 |
| 2 Day Rental | $675.00 |
Setup Area: 40' L x 26' W x 19' H
Actual Size: 36' L x 18' W x 18' H
Monitors: Adult supervision is required at all the times.
Outlets: 1 Required household outlet
Age Group: 6 and up, 200 lbs max per player.
Description
Introducing the Ultimate Summer Thrill: The 18' Tropical Dual Lane Water Slide!

Prepare to make a splash at your next event with our exhilarating 18' Tropical Dual Lane Water Slide. This dynamic inflatable attraction is the perfect addition to any summer gathering, from backyard birthday parties to large-scale corporate picnics and community festivals. If you're looking to take your celebration to the next level, look no further than this double lane water slide rental!
Key Features:
Double the Fun: With not one but two thrilling lanes, this water slide guarantees hours of side-by-side racing excitement. Challenge your friends and family to a friendly competition and find out who can reach the refreshing pool at the bottom first!

Tropical Paradise Vibes: Immerse yourself in a tropical oasis right in your own backyard! The vibrant and eye-catching design features palm trees, coconuts, and vivid hues that transport you to a paradise destination. It's a photo-worthy attraction that will make your event truly memorable.

Built for Safety: Safety is our top priority. Our water slide is made from high-quality, durable materials and is designed to provide a safe sliding experience for all participants. Non-slip surfaces, sturdy handrails, and secure anchoring ensure a worry-free time for everyone.

Cool Refreshment: The water slide doesn't just provide excitement; it's a fantastic way to beat the summer heat. The flowing water keeps the slide slick and fast, ensuring a smooth glide every time. Whether you're racing down or taking a leisurely slide, the refreshing splash at the end is a welcome reward.

Easy Setup and Take Down: Our professional team will handle the setup and takedown, so you can focus on having fun. We make the process hassle-free, ensuring that you have more time to enjoy the festivities.

Versatile Entertainment: The 18' Tropical Dual Lane Water Slide is perfect for various occasions, including birthday parties, family reunions, school carnivals, and community events. It's suitable for both children and adults, making it an ideal addition to gatherings with diverse age groups.
Why Choose a Double Lane Water Slide:
Friendly Competition: Challenge your friends or family members to a thrilling race to the finish. Double the lanes, double the fun!

Reduce Wait Times: With two lanes, more participants can slide simultaneously, reducing long lines and wait times. Nobody likes to wait in the summer heat!

Enhanced Entertainment: A dual lane water slide adds an element of excitement and engagement to your event, making it more memorable for your guests.
For the ultimate in summer entertainment, look no further than the 18' Tropical Dual Lane Water Slide. Whether you're hosting a backyard BBQ or a community-wide celebration, this inflatable water slide promises to deliver endless fun, laughter, and unforgettable moments. Don't miss out on the opportunity to create lasting memories with a double lane water slide rental that will keep everyone sliding, racing, and splashing all day long! Reserve your dual lane slip and slide today, and let the aquatic adventure begin!

✿.。.:* ☆::. .::.☆*.:。.✿
The Ultimate Double Lane Water Slide Experience in Memphis
Lorem ipsum dolor sit amet, consectetur adipiscing elit. Phasellus interdum odio nibh, at dignissim lorem tincidunt id. Fusce et porta arcu, sit amet venenatis mi. Donec rutrum molestie laoreet. Suspendisse hendrerit tellus ac nisl volutpat consectetur. Cras in feugiat erat. Cum sociis natoque penatibus et magnis dis parturient montes, nascetur ridiculus mus. Proin mattis neque in mauris tristique, et lobortis urna congue. Morbi pulvinar nulla nibh, sodales convallis tellus porta quis. Nunc vehicula, massa sit amet placerat condimentum, ex orci sagittis leo, nec vestibulum odio lectus ut sem. Vivamus sed scelerisque magna, eget mollis velit. Pellentesque ultricies mauris ut lacinia facilisis. Nam maximus ipsum libero, a laoreet ligula rhoncus vel. Ut sit amet ipsum libero. Aenean mattis dictum dolor vel aliquam. Nam vehicula ante cursus augue ultrices, et rhoncus quam cursus. Nam tincidunt augue ante, at mollis neque laoreet sit amet