Obstacle Courses Rentals in Memphis TN
For the best obstacle course rental Memphis TN has to offer, choose Tiky Jumps Inflatables! We're your friendly local event gear gurus, here to brighten up your every celebration in Memphis, Tennessee, and neighboring areas. Born and raised right here in our vibrant community, we've been making parties pop with our exceptional party rentals since the get-go. We're all about fostering connection, promoting healthy activity, and adding a dash of magic to your events, one exciting race at a time!

From obstacle course rentals that'll get your adrenaline pumping to a top-notch selection of event furniture to create the perfect ambiance, our company is your one-stop shop for a spectacular shindig. But what sets us apart from the crowd? Well, let's just say we've got an infectious zest for fun, and we're all about the community spirit. Our obstacle courses are the cream of the crop, and they pack a punch of fun. Tailored for kids and adults alike, our rentals are built to keep the thrills coming, the laughter echoing, and the memories being made. We provide the top quality obstacle course rental Memphis TN can't get enough of. We're big believers in good, clean fun, so we ensure our gear is top-notch, safe, and squeaky clean.

We're dedicated to providing you with top-tier customer service, right from our first hello to waving goodbye after your successful event. We're more than just a rental service; we're your neighbors, your friends, and your go-to party planners. So when it comes to bringing your event to life in the most fun and fabulous way possible, remember we're ready to bounce, serve, and deliver. We aim to provide the best obstacle course rental Memphis TN has to offer and together, we'll turn your celebration into the talk of the town!
  Obstacle Courses
Tiky Jumps Inflatables is proud to offer awesome
Obstacle Courses Rental Memphis TN
Are you ready to take the challenge?
Displayed Price: Up to 4 Hours
Good Deal: Extra time: 5 - 8 hours 15% more.
Better Deal: Overnight: 30% more only.
Pay
1st
day displayed price,
following days just
50%
more per day.
Tax and delivery are not included.
Holidays price may vary.
100ft Radical Run Obstacle Course Rock Climb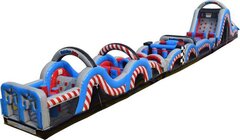 70Ft Racing Fun Obstacle Course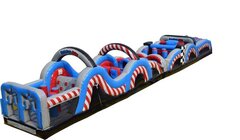 70Ft Radical Run Obstacle Course Rock Climb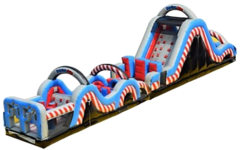 High Voltage Wrecking Ball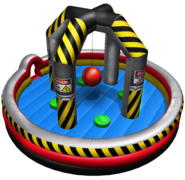 30Ft Radical Run Obstacle Course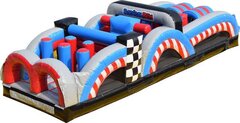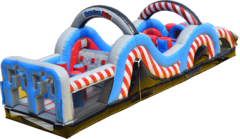 18' Radical Run Rock Climb Double Slide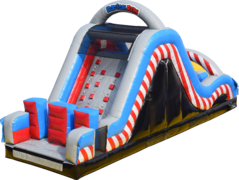 Reliable Options for an Obstacle Course Memphis TN Can Depend On
Rent the obstacle course Memphis TN doesn't want to party without from Tiky Jumps Inflatables! Our arsenal is brimming with an array of party rentals, perfect for any event you're planning. We've got it all, from exhilarating obstacle courses to cozy event furniture and even axe-throwing games for that extra bit of excitement!

Thinking of throwing a kids' birthday bash? Our obstacle courses are a real hit with the young crowd. They're designed to inspire fun-filled competition and a whole heap of laughs. You know what they say - a day full of laughter and exercise is a birthday well spent! But hey, it's not just the kiddos who love a good challenge. From school field days to family gatherings, our obstacle courses inject a dose of friendly competition into any special occasion. And trust us, nothing brings families and friends together quite like some fun-spirited rivalry! We have the obstacle course Memphis TN needs to have the best party around.

Our company believes in creating magic for every age group and every size guest list size. We're all about taking your event from 'good' to 'unforgettable'! So, whether you're planning a tiny tot's birthday or a grand corporate function, remember - with Tiky Jumps, it's always a good time. Let's get the party started!
Exciting Options for an Obstacle Course Rental in Memphis TN
Book the #1 obstacle course rental in Memphis TN with Tiky Jumps Inflatables! Ever wondered what makes our catalog of rentals so irresistibly fun? Well, it's the unique blend of adventure and thrill we offer at fantastic prices! Starting off with our budget-friendly champion, the 35' Obstacle Course Hero Run is priced at just $325.00. It's the perfect starter pack for a thrilling day of fun and games. Not to mention, it's a real crowd-pleaser! The kids will love this obstacle course rental Memphis Tennessee can't party without.

Next up, meet our compact and action-packed 18' Radical Run Rock Climb Double Slide for only $375.00. Small but mighty, this rental brings the excitement of a rock climb and a double slide together for endless fun. Got a wild bunch? Challenge them with our High Voltage Wrecking Ball for $475.00. Avoid the swinging ball and be the last one standing - it's the ultimate test of agility and courage!

For those seeking the grandest of adventures, feast your eyes on our 100ft Radical Run Obstacle Course Rock Climb for $995.00. This mammoth course is the pinnacle of fun, excitement, and challenges, offering hours of endless entertainment! Whatever your event, whatever your budget, we've got just the right dose of fun for you! Get in touch with a member of our team at (901) 300-0417 to book the inflatable obstacle course rental Memphis TN can't get enough of.
How to Rent an Obstacle Course in Memphis TN
If you're ready to rent an obstacle course in Memphis TN, you've come to the right place. We're here to make booking your next party rental a total breeze. Here's how you can get started:

First, navigate to our "All Rentals" section, where you'll find all of our wonderful obstacle courses listed. Go ahead and browse through the options. There's something for everyone!

Found something that catches your eye? Fantastic! Click on the product for a detailed description and pricing information. When you're ready, hit the "Book Now" button to begin the reservation process. This will take you to a calendar where you can select your desired event date and time. Follow the prompts to fill in your event details and contact information. Easy peasy! Don't hesitate to give us a call at (901) 300-0417. Our friendly customer service team will be thrilled to help you book your obstacle course over the phone. We want your experience to be as seamless as possible when you rent an obstacle course in Memphis TN from Tiky Jumps.

Once you've confirmed your booking, we'll send you an automatic email confirmation for your records. This will include a digital contract that you'll need to review and sign electronically. Rest assured, it's all safe and secure. And voila, your party is now set to be a full-blown extravaganza! Remember, if you have any questions or need assistance along the way, we're just a call or click away. Happy party planning!
Delivering Obstacle Course Rental Near Memphis TN and Surrounding Areas
We're happy to deliver the most entertaining obstacle course rental near Memphis TN and other surrounding areas of Shelby County. From the heart of the metro Memphis area to the neighboring communities of Bartlett, Germantown, and East Memphis, we're here to help you have a memorable, marvelous time.

We're happy to offer delivery to the 38017, 38109, 38128, 38002, 38134, 38125, 38016, 38116, 38127, 38111, 38115, 38018, 38118, 38135, 38117, 38053, 38138, 38119, 38122, 38141, 38106, 38104, 38114, 38133, 38108, 38139, 38112, 38107, 38103, 38120, 38028, 38004, 38126, 38105, 38129, 38140, 38143, 38146, 38195, 38165, 38152, 38142, 38132, 38157, 38188, 38055, 38136, 38110, 37501, 38147, 38113, 38131, 38130, 38101, 38124, 38137, 38145, 38148, 38151, 38150, 38161, 38159, 38163, 38167, 38166, 38173, 38168, 38175, 38174, 38181, 38177, 38183, 38182, 38186, 38184, 38187, 38193, 38190, 38194, 38197, 37544, 38014, 38027, 38029, 38054, 38088, and 38083 zip codes of Shelby County. Don't see your city or zip code listed here? Give us a call to see if delivery arrangements can be made in your area and reserve an obstacle course rental near Memphis TN.

We're honored to partner with local school districts, like Memphis City Schools and Shelby County Schools, and bring a dash of joy to the schoolyard. Our obstacle courses have made many a church event and community organization gathering a hit, not to mention the countless birthdays and celebrations in residences across the region!

Whether you're enjoying the day at Sun Studio near Beale Street, touring the grounds at Graceland, or learning more about our nation's history at the National Civil Rights Museum, our city is filled with opportunities to engage with our fellow community members and get to know our iconic city a little bit better. Hosting an outdoor event? We've got you covered. Whether you're planning a field day at Tom Lee Park, a company picnic at Martyrs Park, or a family reunion at Mississippi River Park, our rentals are ready to roll in and ramp up the fun.

We're all about making your events unforgettable. From first-time party throwers to seasoned event planners, our goal is to make sure everyone feels the joy and excitement that come with a well-planned party. We're not just a rental service; we're a part of your celebration, dedicated to delivering fun, laughter, and memories that will last a lifetime. So remember, the next time you're searching for an obstacle course rental near me Memphis TN can count on, no matter the event or location, our crew is just a call or click away! Because wherever fun is needed, we're there!
FAQs About Our Memphis TN Obstacle Course Rental Process
If you have questions about our Memphis TN obstacle course rental process, we're here to help. Need additional information before getting started? Feel free to reach out to our team at (901) 300-0417 today!
Q.
What areas do you serve?
A.
We're proud to serve Memphis, TN, and surrounding areas, including Bartlett, Germantown, and all of Shelby County. However, a delivery fee will be added accordingly to the event address. If you're unsure whether we cover your location and the cost of delivery, just give us a call!
Q.
How much does it cost to rent an obstacle course?
A.
We're proud to offer the most cost-effective equipment in town! Our Memphis Tennessee obstacle course rental options begin at $325 for a four-hour rental timeframe and go up from there depending on the size and style of the inflatable, the rental duration, and the delivery location.
Q.
How do set-up and take-down work for your obstacle courses?
A.
Our prices include delivery within our service area, set up, and take down, and set up on grass is free. However, an additional fee will be required if sandbags are needed to secure the unit on concrete/asphalt or indoors.
Q.
What safety measures do you take?
A.
Safety is our top priority. We make sure each Memphis TN obstacle course rental is inspected and cleaned before each rental. We also provide safety instructions for proper usage so you can enjoy your party just as much as your guests with the peace of mind that everyone will have a safe, fun-filled time!
5-Stars for Our Memphis TN Obstacle Course Selections
Looking for the best Memphis TN obstacle course in town? You've come to the right place. We're thrilled to have earned repeated 5-star ratings for our obstacle course rentals. Our customers appreciate our attention to detail, prompt delivery, affordable pricing model, and knowledgeable team of party professionals. Get in touch with our staff today, and take a look at a selection of our positive reviews below to learn more about why our customers continue to trust us year after year, no matter the special occasion.
The employees were great! Drop off was quick and easy, and the staff even went in with a leaf blower to make sure it was cleaned out. They took a towel and cleaning spray to wipe everything down too. The party ended earlier than planned, so I just texted the staff, and they came within 20 minutes to pick up the equipment. Overall, a great experience.
-Meagan L.
I have worked with this company for the last 4 years for birthdays, and I'm not disappointed! The customer service is fantastic, and the communication is quick and professional. I would highly recommend this company.
-Michelle T.
Very professional company. They were on time and very helpful. We had a big event this past weekend, and dealing with this company was a piece of cake. Thank you again!
-Justin S.
Previous
Next