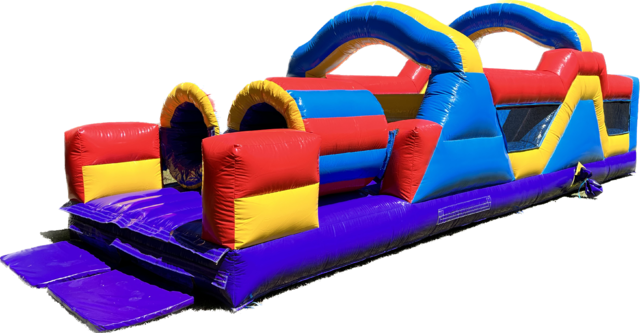 | | |
| --- | --- |
| Up to 4 Hours | $325.00 |
| 5 - 8 Hours | $373.75 |
| Overnight | $422.50 |
| 2 Day Rental | $487.50 |
Setup Area: 45' L x 17' W x 15' H
Actual Size: 35' L x 12' W x 13' H
Monitors: Adult supervision is required at all the times.
Outlets: 1 Required household outlet
Age Group: 3-12 years old
Description
Introducing the 35' Obstacle Course Hero Run
Where adventure meets endurance, and champions are made! This adrenaline-pumping obstacle course is a thrilling test of strength, agility, and determination, spanning 35 feet of heart-pounding challenges designed to push your limits and awaken your inner hero.
Nestled in the heart of a picturesque natural setting, the Hero Run beckons thrill-seekers and fitness enthusiasts alike. As you approach the starting line, the air is electric with excitement, and the promise of a heroic adventure looms ahead.
The course unfolds like a mythic journey, with each of its meticulously crafted obstacles serving as a chapter in your heroic saga. Your first challenge may be the "Wall of Courage," a towering structure that demands a fearless ascent. As you conquer it, a sense of accomplishment surges through your veins.
Next, you'll navigate the "Rope Bridge Ravine," where balance and agility are your allies. Suspended high above the ground, every step forward brings you closer to victory. The "Mud Monster Trench" awaits, a mucky abyss that tests your resolve as you trudge through the mire, emerging stronger and dirtier than before.
The "Typhoon Twist" spinners lie in wait, ready to disorient and challenge your coordination, while the "Monkey Bars of Might" push your upper body strength to the limit. A sprint through the "Bamboo Forest Sprint" leads you to the "Cargo Net Ascent," where you'll climb towards the sky, conquering your fear of heights.
But it's not just about individual prowess; the "Teamwork Triangle" encourages camaraderie as you and your fellow heroes tackle a challenging obstacle together. This bond of unity strengthens your resolve.
Finally, you'll face the "Leap of Glory," a heart-pounding, daredevil jump that catapults you to the finish line – your moment of triumph. Awaiting you is the adoration of spectators, the roar of applause, and the feeling of being a true Hero!
The 35' Obstacle Course Hero Run is more than just a physical challenge; it's an epic narrative that unfolds with every obstacle. It's a celebration of the indomitable spirit that resides within each of us, waiting to be awakened. So, are you ready to write your heroic story? Join us at the Hero Run, where adventure and glory collide, and become the hero you were always meant to be!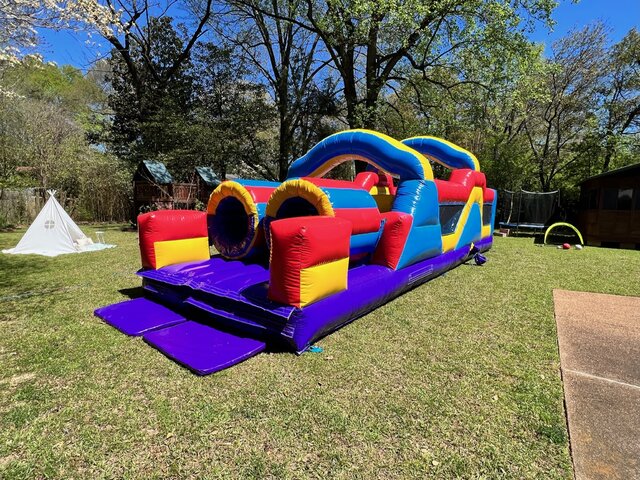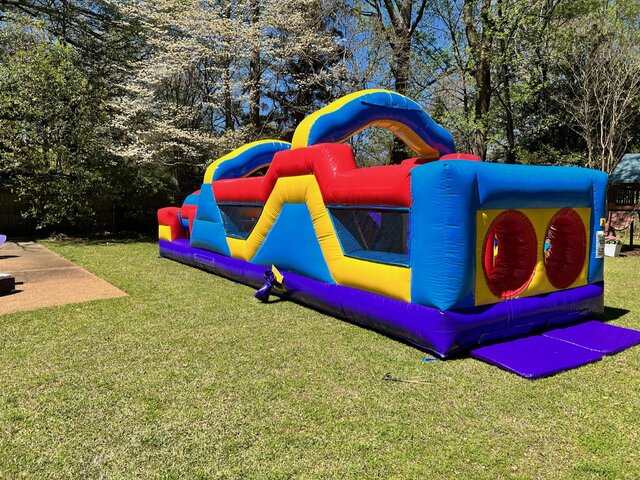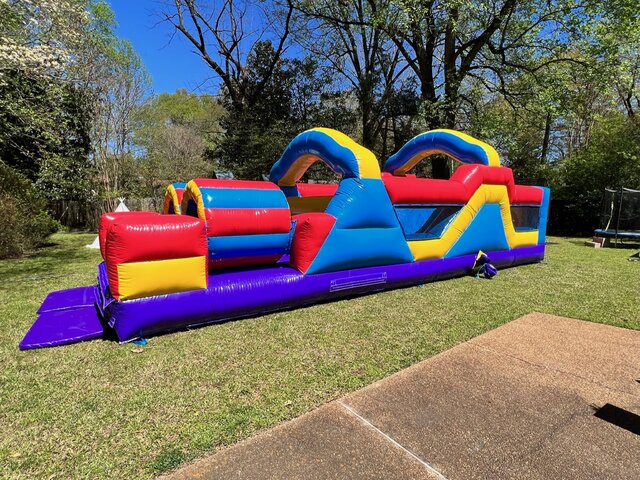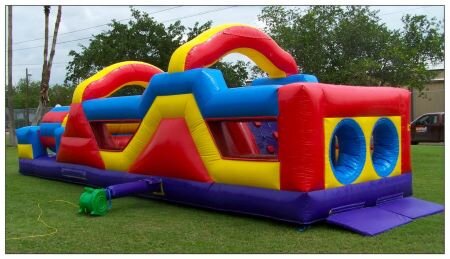 The 35' obstacle hero run from Tiky Jumps is the ultimate inflatable obstacle course for those who want to have fun, play, and interact with others. With its impressive size and challenging obstacles, this course is perfect for anyone looking for a thrilling adventure. Whether you're racing against friends or just trying to beat your personal best, the obstacle hero run is sure to keep you entertained for hours.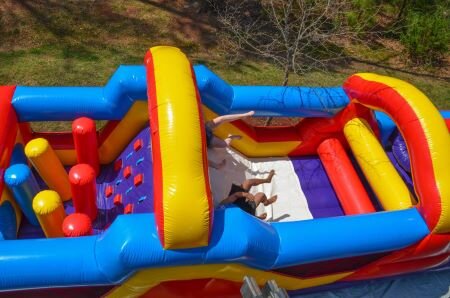 In addition to its challenging obstacles, the inflatable rental by Tiky Jumps is also incredibly fun to play on. The soft, bouncy material makes it easy to run, jump, and slide your way through the course. And with its bright colors and fun designs, it's the perfect backdrop for your next adventure.
So if you're looking for a fun and exciting way to spend your day, look no further than the 35' obstacle hero run from Tiky Jumps. With its challenging obstacles, bouncy material, and interactive design, it's the perfect inflatable rental for any occasion.