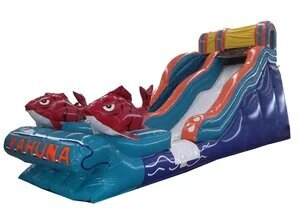 19' Big Kahuna Water Slide
Actual Size:

35' L x 11'W x 22'H

Setup Area:

40' L x 20' W x 25' H

Outlets:

1 Required household outlet

Age Group:

8 and up, 200 lbs max per player.

Attendants:

1 Adult (not included)





$415.00

Price subject to change



To get a quote or book online The Big Kahuna add it to the cart, enter date & time then click check out!

The most popular water slide ever created is brought to Memphis by Tiky Jumps in its newest and largest version the 19' Big kahuna.
The 19ft Big kahuna is huge and exciting it is extremely fast, dare to slide from its platform with an almost vertical inclination you will feel the adrenaline of this huge 19ft Big Kahuna Water Slide, landing safely in its inflated pool bed, you will be so excited that you will stay get on one more time and again and again.

Perfect for adult and adolescent parties and the occasional brave child, The 19ft Big Kahuna features twp big red fish each side of the slide and two more at the end of the pool that set apart the Big Kahuna water slide from others offering hours of fun guaranteed.
The 19' kahuna is different from others water slide because it offers an elongated and safe inflated landing pool, therefore it also allows you to save water by not offering a traditional pool
.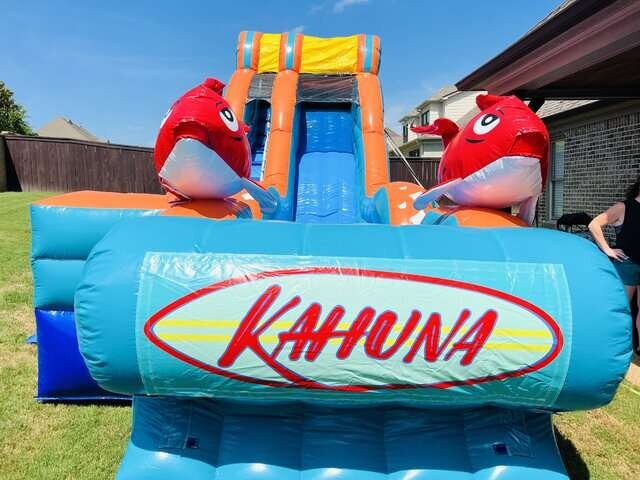 Memphis Water Slide rentals, Memphis water slide rentals for adults, adults water slide rentals memphis, watr slide rentals for grown uos in memphis, Water Slide rentals Memphis, water slide rental, water slide memphs TN, water slide rentals near me, water slide for rent, moonwalk water slide for rent, moonwalk water slide rental near me, bouncer water slide for rent, bouncer water slide rental near me, huge water rental in memphis, huge water slide for rent memphis tn, why i should rent a water slide, bounce water slide rental memphis, inflatable water slide memphis, blown out water slide, adult water slide for fun, best water slide for rent, best water slide rental, water slide rental Bartlett tn, water slide rental Cordova, water slide rentals Collierville, inflatable water slide cordova tn, water water slide rental germantown tn, germantown water slide rental, colliervile water slide rental, bartlett water slide, atoka water slide rental, atoka water slide rentals,millington inflatable water slide rentals, water slide rentas millington tn, arlington tn water slide rentals, water slide rentals millington, West memphis water slide rentals, water slide rental west memphis, cordova adults water slide, Bartlett water slide for adults