Why I should get a gift card???
You will get a free concession or game up $64.99.

Gift cards guarantee gifts people will love.

You can buy our gifts cards without leaving home.

They make giving and receiving more fun.
Gift Cards are the only present that makes sense
Gift cards easy to get and practical
They save money and time
They don't have a expiration date so you can redeem them any time at Tiky Jumps
  Gift Cards

Gift Cards for Inflatable Rentals By Tiky Jumps Memphis TN

Buy Now, Use Later promotion! With any these Gift Card you will receive one free concession or Game of your choice up to $64.99.

When you place your order just mention in the comments section which one it is you want. Any concession machine or Game up to $64.99.
$200 Gift Card + 1 free $65 Concession or Game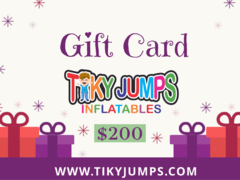 $250 Gift Card + 1 free $65 Concession or Game