Play Around 9 Hole Inflatable Mini Golf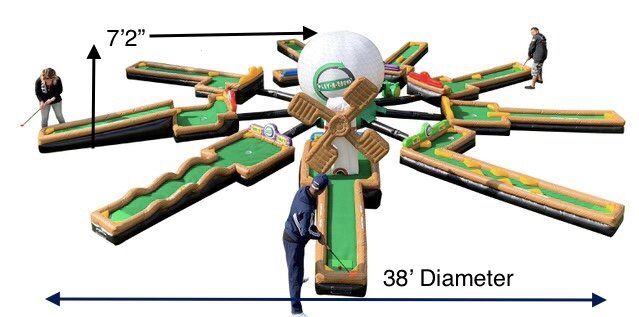 | | |
| --- | --- |
| Up to 4 Hours | $650.00 |
| 5 - 8 Hours | $747.50 |
| Overnight | $845.00 |
| 2 Day Rental | $975.00 |
Description
9 Hole Inflatable Mini Golf
Elevate Your Event with Unforgettable Mini Golf ExperiencesAre you ready to take your event to the next level? Look no further – we have the perfect ingredient to add excitement, laughter, and camaraderie to your gathering. Introducing our remarkable 9-hole mini golf course rental services, designed to create lasting memories and bring people together like never before.
Creating Magical Moments with Portable Mini Golf
Imagine the scene: your event venue transformed into a mini golf wonderland. Our portable mini golf setups are not just rentals; they're gateways to adventure. From intimate backyard celebrations to grand corporate galas, our miniature courses promise endless fun for everyone, regardless of age or skill level. And the best part? These mini golf courses travel with you, turning any space into a playground of enjoyment.
Unleash the Fun with Mini Golf Party Rentals
Memphis mini golf party rentals have never been this exciting. We specialize in delivering a complete putt-putt experience that adds a unique touch to your celebration. Our putt-putt rental services encompass everything you need for an unforgettable gathering. From putters and golf balls to creatively designed holes, we've got the details covered, leaving you with the freedom to focus on enjoying the event with your guests.
A Game for All Ages: Mini Golf Game Hire
Whether you're organizing a family reunion, a corporate team-building event, or a birthday party, our mini golf game hire service caters to diverse occasions. Mini golf transcends generations, uniting young and old in a delightful and friendly competition. It's a wonderful way to bond, share laughs, and create memories that linger long after the event is over.
Crafting Memorable Experiences with Mobile Mini Golf
Our mobile mini golf course rentals bring the game to you, creating a captivating experience right at your doorstep. No need to worry about finding a suitable venue or transporting heavy equipment. We handle the logistics, leaving you with the joy of watching your guests immerse themselves in the world of mini golf, swinging for the perfect hole-in-one.
From Miniature Golf Event Rentals to Endless Possibilities
Our offerings extend beyond traditional miniature golf event rentals. We specialize in curating memorable experiences that resonate with your event's theme and goals. Whether you're hosting a corporate team-building day, a community fair, or a wedding reception, our customizable mini golf setups can be tailored to match your vision and objectives.
Tailored to Perfection: Memphis TN Putt-Putt Course for Parties
In the heart of Memphis, we're proud to provide a putt-putt experience like no other. Our Memphis TN putt-putt courses for parties are thoughtfully designed to captivate and engage your guests. With intricate obstacles, imaginative layouts, and a touch of friendly competition, our courses keep everyone entertained, no matter their skill level.
Uncompromised Fun with Rent Mini Golf Entertainment
Gone are the days of ordinary event entertainment. With our rent mini golf entertainment options, you're offering your guests an experience that combines skill, laughter, and excitement. It's more than just a game; it's an opportunity to immerse yourself in a world of miniaturized challenges, where every stroke counts and every hole presents an adventure.
Setting the Stage for Unforgettable Memories: Mini Golf Station for Events
Picture this: a mini golf station at your event, beckoning guests to partake in a journey of skill and amusement. Our mini golf station for events transforms any space into a center of attraction. From elegant corporate affairs to lively birthday bashes, our station is a hub of entertainment, drawing guests in with its magnetic allure.
On-Demand Portable Mini Golf: Wherever You Need It
Planning an event involves numerous considerations, but entertainment shouldn't be a headache. With our on-demand portable mini golf, entertainment becomes a breeze. Our setups can be arranged at any venue, indoor or outdoor, transforming even the most mundane locations into arenas of excitement and play.
Unleashing Excitement: Mini Golf Attractions Rental
When it comes to event attractions, mini golf stands tall as a timeless favorite. Our mini golf attractions rental service offers a collection of thoughtfully crafted courses that cater to various skill levels. From beginners to seasoned golfers, everyone can participate, making it an inclusive and engaging activity for your event.
From Indoor Mini Golf Rental to Outdoor Adventures
Weather won't be a factor in your event's success when you choose our indoor mini golf rental option. Rain or shine, the fun continues uninterrupted. And for those who want to bask in the great outdoors, our outdoor mini golf rental brings the joy of the game to open spaces, letting participants enjoy the fresh air as they aim for that elusive hole-in-one.
Bringing the Carnival Vibe: Mini Golf Carnival Booth Rental
The lively spirit of a carnival can now be a part of your event with our mini golf carnival booth rental service. Guests of all ages can step up to the booth and enjoy a round of mini golf. It's an interactive addition that infuses your event with the charm and excitement of a classic carnival, creating lasting memories for attendees.
Creating an Unforgettable Atmosphere: Miniature Golf Equipment for Rent
It's the details that make an event unforgettable, and our miniature golf equipment for rent ensures that your gathering is nothing short of exceptional. From the putters to the scorecards, every element is designed to add a touch of authenticity and a whole lot of fun to the mini golf experience.
Quality and Affordability: Affordable Mini Golf Rental
Quality entertainment doesn't have to come with a hefty price tag. With our affordable mini golf rental options, you're getting the best of both worlds – an engaging activity that fits well within your budget. We believe that everyone deserves access to remarkable experiences, and our rates reflect that commitment.
A Flawless Mini Golf Party: Mini Golf Party Equipment Hire
Crafting a memorable party involves selecting the right elements, and our mini golf party equipment hire service ensures that you have one less thing to worry about. Our comprehensive packages include everything needed for a mini golf extravaganza, from equipment to setup, allowing you to focus on hosting and enjoying the festivities.
The Ultimate Party Addition: Portable Mini Golf Course Setup
Picture this: your event space transformed into a captivating mini golf wonderland. Our portable mini golf course setup does just that, turning any venue into a hub of entertainment. It's a party addition that resonates with guests of all ages, offering a unique blend of competition, laughter, and enjoyment.
Elevating Corporate Events: Corporate Event Mini Golf Rental
Corporate events are an opportunity to foster camaraderie and boost team morale. Our corporate event mini golf rental service introduces a fun and interactive element that encourages teamwork and friendly competition. Whether it's a team-building workshop or a company picnic, our mini golf courses create an atmosphere of engagement and collaboration.
A Memphis Tradition: Mini Golf Rental Memphis Tennessee
Memphis is known for its vibrant culture and unforgettable experiences. Our mini golf rental in Memphis, Tennessee, adds another layer of excitement to the city's offerings. With intricately designed courses, intuitive layouts, and a sprinkle of Southern charm, our rentals encapsulate the essence of Memphis in every stroke.
Backyard Adventures: Backyard Mini Golf Rental
Why limit the fun to traditional venues when your own backyard can become a canvas for adventure? Our backyard mini golf rental service transforms your