Blueish Firefighters Bounce Dual Slide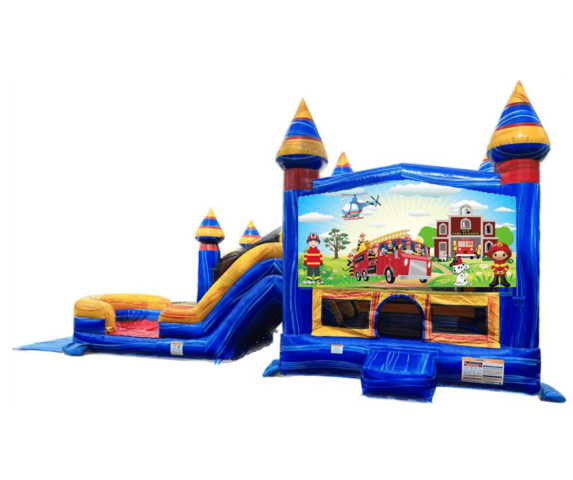 | | |
| --- | --- |
| Up to 4 Hours | $395.00 |
| 5 - 8 Hours | $454.25 |
| Overnight | $513.50 |
| 2 Day Rental | $592.50 |
Setup Area: 35' L x 20' W x 16' H
Actual Size: 31' L x 13'W x 15'H
Monitors: Adult supervision is required at all the times.
Outlets: 1 Required household outlet
Age Group: 3+ years old, 150 lbs max per player
Description
Introducing the Blueish Firefighters Bounce Dual Slide
An exhilarating inflatable adventure that combines the thrill of bouncing with the excitement of sliding, all in a captivating blue firefighter-themed design tailored for boys. This inflatable masterpiece is the perfect addition to any event or celebration, promising hours of endless fun and entertainment.
Designed with an intricate attention to detail, the Blueish Firefighters Bounce Dual Slide stands out as a striking blue firefighter bounce house that captures the imagination of young adventurers. The vibrant blue color scheme, adorned with heroic firefighter graphics, creates an immersive experience that transports kids into a world of bravery and heroism.
The centerpiece of this inflatable wonder is the expansive bouncing area, providing a safe and spacious environment for children to unleash their boundless energy. Constructed with high-quality, durable materials, the bounce house ensures a sturdy and secure play space. The firefighter-themed elements, such as helmets, hoses, and fire trucks, add an extra layer of excitement, making it the ultimate destination for young heroes in training.
But the adventure doesn't stop there. The Blueish Firefighters Bounce Dual Slide features an integrated dual slide that takes the excitement to new heights—literally. Kids can climb to the top of the inflatable structure and experience the thrill of sliding down, adding an extra element of exhilaration to the overall play experience. The dual slide design accommodates multiple participants simultaneously, making it ideal for events with a larger guest count.
For those seeking a unique and unforgettable party experience in Memphis, TN, the Blueish Firefighters Bounce Dual Slide is available for inflatable rental. Imagine hosting a birthday party, community event, or school carnival with this standout attraction, creating memories that will last a lifetime. The inflatable is delivered and set up by professional staff, ensuring a hassle-free and safe experience for both hosts and guests.
Transform your event into a celebration of bravery and adventure with the Blueish Firefighters Bounce Dual Slide—a blue firefighter bounce house designed specifically for boys who dream of heroic exploits. Book this inflatable marvel today and let the young heroes in your life embark on an unforgettable journey of bouncing and sliding fun!