Blueish Mermaid Bounce Dual Slide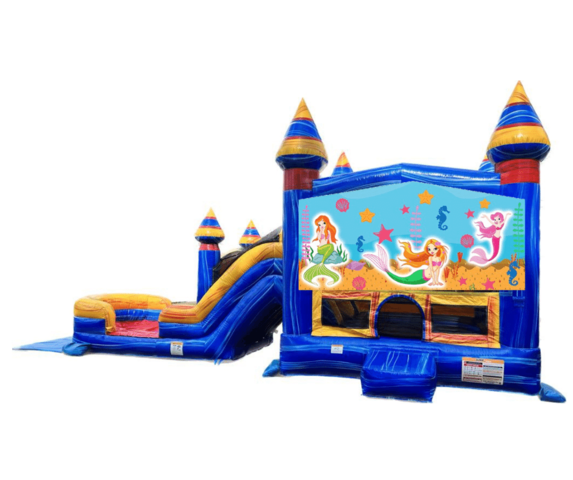 | | |
| --- | --- |
| Up to 4 Hours | $395.00 |
| 5 - 8 Hours | $454.25 |
| Overnight | $513.50 |
| 2 Day Rental | $592.50 |
Setup Area: 35' L x 20' W x 16' H
Actual Size: 31' L x 13'W x 15'H
Monitors: Adult supervision is required at all the times.
Outlets: 1 Required household outlet
Age Group: 3+ years old, 150 lbs max per player
Description
The Blueish Mermaid Bounce Dual Slide: A Whimsical Aquatic Adventure
Step into a world of aquatic enchantment with the Blueish Mermaid Bounce Dual Slide, a mesmerizing inflatable wonderland that promises hours of fun and excitement for adventurers of all ages. This inflatable masterpiece seamlessly combines the thrill of a bounce house with the exhilaration of a water slide, creating an aquatic oasis that will leave you breathless and rejuvenated.
Standing tall and proud, the Blueish Mermaid Bounce Dual Slide features a vibrant and captivating design that immediately transports you to an underwater realm. Its brilliant shades of blue and shimmering silver accents evoke the serenity of the ocean, while the whimsical mermaid and sea creature graphics infuse a touch of fantasy and magic. This attention to detail ensures that every corner of the inflatable is a feast for the eyes, sparking the imaginations of all who enter.
As you step inside, you're greeted by a spacious bounce area that beckons you to let loose and bounce to your heart's content. The reinforced, commercial-grade vinyl material ensures that this bounce house can handle even the most enthusiastic jumpers, while safety features like sturdy netting and soft landing areas provide peace of mind to parents and guardians.
But the real adventure begins when you climb to the top of the dual water slides. Two thrilling slides, one for the daring and one for the cautious, cater to every level of courage. The exhilarating rush of sliding down into a refreshing pool of water is an experience that will leave you craving more. The slides are designed with gentle curves and a controlled descent, making them suitable for children and adults alike.
The Blueish Mermaid Bounce Dual Slide also incorporates thoughtful features for convenience. Built-in water misting systems keep the slides slick and slippery, ensuring a smooth ride every time. A water reservoir at the base of the slides recirculates water, conserving resources and allowing for hours of uninterrupted fun.
Whether you're hosting a summer birthday party, a community event, or a family reunion, the Blueish Mermaid Bounce Dual Slide is sure to be the highlight of the day. Its generous size accommodates multiple participants simultaneously, fostering social interaction and friendly competition. Children can challenge each other to races down the slides or simply enjoy the thrill of sliding together.
This inflatable masterpiece is easy to set up and take down, thanks to its efficient blower system and sturdy anchoring. Safety is a top priority, with reinforced seams, durable netting, and secure anchoring points that ensure a stable and secure play environment. Rest assured that the Blueish Mermaid Bounce Dual Slide complies with safety standards to provide a worry-free experience for everyone.
In conclusion, the Blueish Mermaid Bounce Dual Slide is not just an inflatable attraction; it's a gateway to a world of aquatic adventure and imaginative play. With its eye-catching design, exciting bounce area, and dual water slides, it offers endless entertainment and memories that will last a lifetime. So, dive in and let the Blueish Mermaid Bounce Dual Slide transport you to a whimsical, watery wonderland where the fun never stops.