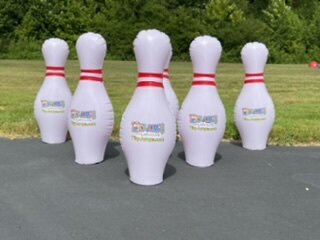 | | |
| --- | --- |
| Up to 4 Hours | $64.99 |
| 5 - 8 Hours | $74.74 |
| Overnight | $84.49 |
| 2 Day Rental | $97.49 |
Actual Size: 27" H each pin x 6 pieces / 20" diam ball
Monitors: Adult supervision is required at all the times
Age Group: 36 months to 4 years and up
Description
Bowlzilla: Giant Bowling Fun 🎳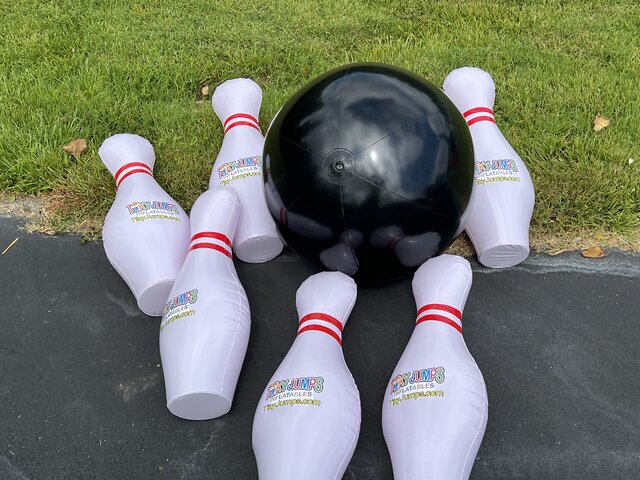 The Giant Bowling game its perfect indoor or outdoor games for corporate events, team builiding, picnic parties, collegue sport days, etc . And requieres no electricity. This giant inflatable bowling set is for sure an excellent carnival game rental to get your students or employees off the office or work area to get some exercise and some friendly competition.
The Sand weighted base provides just enough weight to keep the pins standing even in light wind while playing some lawn games, but not too much to prevent them from being knocked over when struck by the ball.
The bowling set includes 6 giant inflatable bowling pins measuring 27" tall, and one bowling ball.
Features:
1. OVERSIZED INFLATABLE INDOOR / OUTDOOR GAME - Turn regular bowling into massive fun with our Giant Indoor/Outdoor Inflatable Bowling Game. It's made for jumbo fun! And it's perfect for either an outdoor party game or indoor rainy day fun. Giant pins measure 29"H when inflated, and bowling ball is a whopping 20" diam.
2. MANY WAYS TO PLAY - There are no rules with our huge blow-up bowling set. Find new ways to knock the pins over—throw, kick, or roll the ball. Pins stay down when hit, and are easy to reset for the next round.
3. EASY INFLATION AND CARE - It's super easy to set up and start playing. Just inflate the pins and the ball, and you're ready to start knockin' them down! Pump not included. To clean, just use water to remove any dirt or debris.
4. FUN FOR THE WHOLE FAMILY - Geared for ages 4 and up, Giant Inflatable Bowling is fun for the whole family. Turn it into a friendly family tournament between kids and adults. (The loser has to do the dishes.)
5. SKILL-BUILDING ACTIVE PLAY - A fun way to encourage active play that develops hand-eye coordination, balance, and friendly competition!
Inclusion/s:
• 6 Inflatable Pins
• 1 Inflatable Ball
Additional Information:
• Product Dimensions - 0.1 x 0.1 x29 inches
• Item Weight - 4.02 pounds
• Recommended age group - 36 months to 4 years