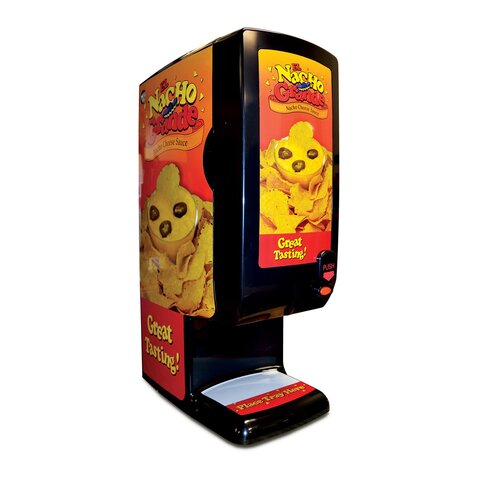 | | |
| --- | --- |
| Up to 4 Hours | $64.99 |
| 5 - 8 Hours | $74.74 |
| Overnight | $84.49 |
| 2 Day Rental | $97.49 |
Outlets: 1 Required household outlet
Description
Nacho Cheese Dispenser Rental in Memphis, TN - Spice Up Your Event with Gourmet Goodness!
Are you planning a memorable event in Memphis and want to add a delicious twist to your concessions? Look no further! Our Nacho Cheese Dispenser Rental is the perfect solution to elevate your gathering to the next level of taste and fun.
Features:
1. Premium Gold Medal Cheese Dip: Our rental package includes a generous 140oz bag of delectable Gold Medal Nacho Cheese Dip. Made with the finest ingredients, this cheese dip is a crowd-pleaser that will leave your guests craving for more.
2. Easy-to-Use Dispenser: Our state-of-the-art dispenser is user-friendly and designed for hassle-free operation. Whether you're a seasoned pro or a first-time user, you'll find it a breeze to serve up hot and gooey nacho cheese.
3. Capacity for Large Crowds: With a capacity to hold plenty of cheese dip, our dispenser is perfect for events of all sizes, from intimate gatherings to large-scale celebrations. Say goodbye to the inconvenience of constantly refilling.
4. Maintain Optimal Temperature: Our cheese dispenser ensures that your cheese dip remains at the perfect serving temperature throughout your event. Your nachos will be irresistibly cheesy from the first bite to the last.
5. Perfect for Various Occasions: Whether it's a birthday party, corporate event, school fundraiser, sporting event, or a movie night under the stars, our Nacho Cheese Dispenser Rental adds a savory touch that will delight your guests.
Why Choose Our Nacho Cheese Dispenser Rental?
Convenience: We take the hassle out of event planning. Our rental package includes everything you need for a cheesy delight, so you can focus on enjoying the event.

Quality: We only offer top-quality Gold Medal Nacho Cheese Dip to ensure that your guests savor the best.

Affordability: Our rental rates are competitive, making it a budget-friendly choice for any event.

Local Service: We're proud to serve the Memphis, TN area, and our dedicated team is ready to assist you every step of the way.
Spice up your event with the savory goodness of nacho cheese, courtesy of our Nacho Cheese Dispenser Rental. Your guests will thank you for the unforgettable flavors, and you'll create memories that will last a lifetime. Contact us today to reserve your dispenser and take your event to a whole new level of deliciousness!

Inclusion/s:
• 140oz bag of cheese dip
Additional Information:
• 1 Power outlet required
• 1 Adult supervision required
• Stable surface from which to operate the equipment is required