The HotDog Roller Machine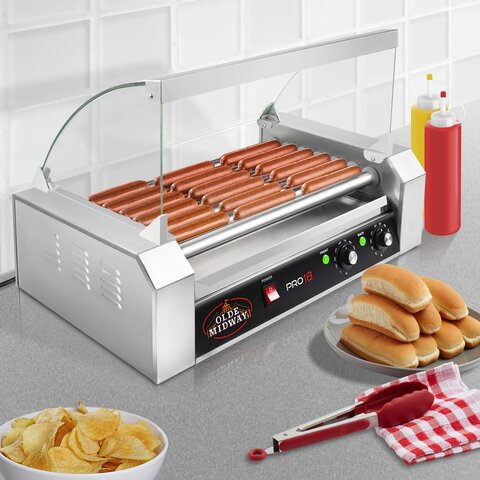 | | |
| --- | --- |
| Up to 4 Hours | $64.99 |
| 5 - 8 Hours | $74.74 |
| Overnight | $84.49 |
| 2 Day Rental | $97.49 |
Description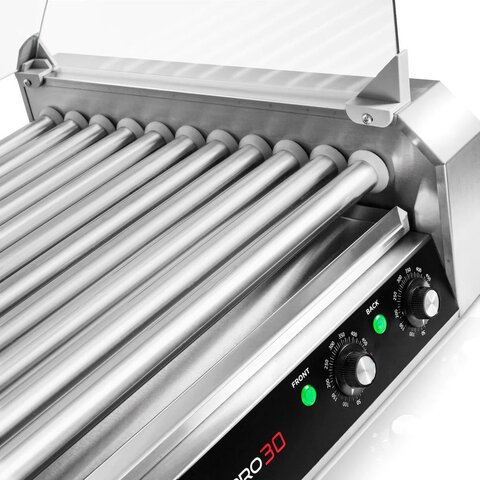 • Commercial-grade: Constructed of high-quality stainless steel, this commercial-grade 1200-watt hot dog griller features 11 non-stick rollers that can cook up to 30 hot dogs at a time. These slow rollers are ideally suited for grilling all varieties of hot dogs, sausages, taquitos, and more.
• Dual-temperature controls: Easy-to-use design has the power switch and separate temperature controls for front and back rollers conveniently located on the front panel. The dual-temperature controls allow for continuous cooking on the back rollers, while the front rollers keep the cooked items hot and ready to serve.
• Thorough, even cooking: 11 stainless steel non-stick rollers rotate a full 360 degrees to cook all items uniformly. Whether cooking franks, thick stadium dogs, plump bratwurst, or even frozen hot dogs, these rollers can do it all, quickly and efficiently.
• Clean & convenient design: Cook and grill almost anywhere, and avoid the mess and hassle of a full-size conventional gas grill with this powerful yet compact design that weighs just 42 pounds. Includes a removable stainless steel drip tray for easy cleanup.
• Integrated safety features: Non-skid rubber feet provide a secure base for cooking, and the unit is equipped with a built-in fuse and a grounded US-standard 120-volt power cord for safety.
The HotDog Roller Machine