Blueish Birthday Cake Bounce Dual Slide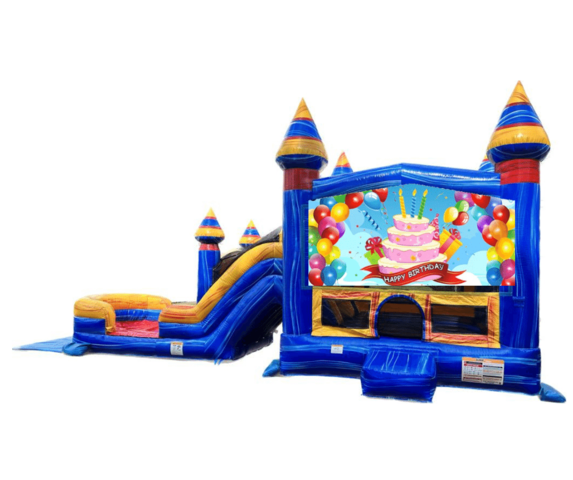 | | |
| --- | --- |
| Up to 4 Hours | $395.00 |
| 5 - 8 Hours | $454.25 |
| Overnight | $513.50 |
| 2 Day Rental | $592.50 |
Setup Area: 35' L x 20' W x 16' H
Actual Size: 31' L x 13'W x 15'H
Monitors: Adult supervision is required at all the times.
Outlets: 1 Required household outlet
Age Group: 3+ years old, 150 lbs max per player
Description
Introducing the Blueish Birthday Cake Bounce Dual Slide
The ultimate inflatable wonderland for boys' birthday celebrations! This vibrant and captivating blue birthday-themed bounce house is the perfect centerpiece for an unforgettable party experience. Crafted with meticulous attention to detail, this inflatable marvel combines the joy of bouncing with the thrill of sliding, ensuring endless hours of laughter and excitement.
The Blueish Birthday Cake Bounce Dual Slide is a true spectacle, featuring a stunning design inspired by a delectable blue birthday cake. The exterior is adorned with intricate details, from whimsical frosting swirls to colorful sprinkles, creating an immersive and delightful atmosphere for young party-goers. The vibrant shades of blue add a touch of magic, setting the stage for a celebration like no other.
One of the standout features of this inflatable gem is its dual-slide design, offering two exhilarating ways for kids to experience the thrill of sliding. The slides are thoughtfully integrated into the structure, seamlessly extending the excitement beyond the traditional bounce house experience. With safety as a top priority, the Blueish Birthday Cake Bounce Dual Slide is constructed from high-quality materials, ensuring a secure and enjoyable environment for all participants.
Planning a birthday bash in Memphis, TN? Elevate your party with the Blue Birthday Cake Bounce House Inflatable Rental! This inflatable masterpiece is available for rent, promising to be the highlight of your event. Imagine the joy on your little one's face as they bounce and slide their way through a birthday adventure like never before.
Our rental service in Memphis, TN, ensures a hassle-free experience, from delivery to setup and takedown. The Blueish Birthday Cake Bounce Dual Slide is suitable for various outdoor venues, such as backyard celebrations, community events, or park parties. Watch as the inflatable comes to life, transforming your space into a magical world of bouncing and sliding excitement.
In summary, the Blueish Birthday Cake Bounce Dual Slide is more than just an inflatable – it's a celebration in itself. With its captivating design, dual-slide feature, and availability for rent in Memphis, TN, this blue birthday-themed bounce house promises to make your boy's birthday an extraordinary and memorable experience. Bring the joy of bouncing and sliding to the forefront and create lasting memories with this enchanting inflatable wonderland!
• Features of the Blueish Birthday Cake Bounce Dual Slide
1. Dual Slide Design: Two slides for simultaneous play.
2. Lively Blueish Birthday Cake Theme: Captivating shades and cake design for a striking look.
3. Bounce Area: Spacious bouncing area for kids to enjoy.
4. Inflatable Structure: Made of durable, puncture-resistant materials for safety and longevity.
• Bounce House Occupancy:
(Input here)
• What's Included in Your Rental:
1. Heavy-Duty Blower: Powerful blower for efficient inflation and continuous airflow.
2. Stakes or Sandbags: Included stakes or sandbags for additional stability. **Additional fees apply for hard set-up surfaces
3. Impact Mats: To put under the inflatables for hard set-up surfaces **Additional fees apply for hard set-up surfaces