Purplish Birthday Cake Bounce Dual Slide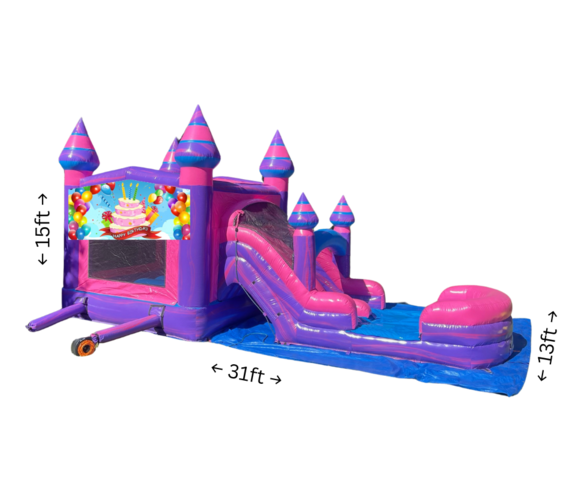 | | |
| --- | --- |
| Up to 4 Hours | $395.00 |
| 5 - 8 Hours | $454.25 |
| Overnight | $513.50 |
| 2 Day Rental | $592.50 |
Setup Area: 35' L x 20' W x 16' H
Actual Size: 31' L x 13'W x 15'H
Monitors: Adult supervision is required at all the times.
Outlets: 1 Required household outlet
Age Group: 3+ years old, 150 lbs max per player
Description
Introducing the Purplish Birthday Cake Bounce Dual Slide
The epitome of enchantment and excitement for your little princess's special day! This inflatable marvel is designed to make every birthday celebration an unforgettable adventure, combining the joy of bouncing with the thrill of sliding in a delightful purplish ambiance.
Crafted with meticulous attention to detail, this Purple Birthday Cake bounce house for girls stands as a beacon of charm, featuring a vibrant color palette that radiates celebratory vibes. The enchanting blend of regal purples and whimsical accents evokes a sense of magic and wonder, setting the perfect stage for a birthday bash fit for royalty.
The centerpiece of this inflatable masterpiece is, of course, the birthday cake bounce house with slide. Picture your young ones bouncing joyfully within the spacious interior, surrounded by the sweet allure of a towering birthday cake graphic that spans the walls. The lively atmosphere is further heightened by the incorporation of dual slides – an exhilarating addition that takes the festivities to new heights.
Perfect for a Purple Birthday themed inflatable experience, this bounce house seamlessly blends entertainment with safety. Constructed from high-quality, durable materials, it ensures hours of carefree play for the little ones. The inflated walls provide a secure environment, allowing parents to indulge in the festivities with peace of mind.
For those seeking a memorable birthday celebration in Memphis, TN, our Purple Birthday bounce house is available for hassle-free rental. Imagine the sheer delight on your child's face as they and their friends navigate the thrilling slides and bounce to their heart's content. This inflatable marvel transforms any backyard or party venue into a magical realm of joy and laughter.
Our commitment to safety extends beyond the quality of the inflatable itself. We prioritize cleanliness and hygiene, ensuring that every bounce house is thoroughly cleaned and sanitized between rentals. This dedication to well-being underscores our promise to provide not just entertainment but a worry-free and enjoyable experience for all.
Make your child's birthday dreams come true with the Purplish Birthday Cake Bounce Dual Slide. Book now to secure this enchanting inflatable for your next celebration in Memphis, TN, and let the laughter and memories flow as freely as the joy in your little one's heart. It's not just a bounce house; it's a celebration waiting to happen!
• Features of the Purplish Birthday Cake Bounce Dual Slide
1. Dual Slide Design: Two slides for simultaneous play.
2. Vibrant Purplish Birthday Cake Theme: Eye-catching colors and birthday cake design for an attractive appearance.
3. Bounce Area: Spacious bouncing area for kids to enjoy.
4. Inflatable Structure: Made of durable, puncture-resistant materials for safety and longevity.
• Bounce House Occupancy:
(Input here)
• What's Included in Your Rental:
1. Blower - to keep your inflatable up and bouncy
2. Safety Stakes - to secure the inflatables with sandbags for hard set-up surfaces **Additional fees apply for hard set-up surfaces
3. Impact Mats - to put under the inflatables for hard set-up surfaces **Additional fees apply for hard set-up surfaces