21' Mystico Dry Slide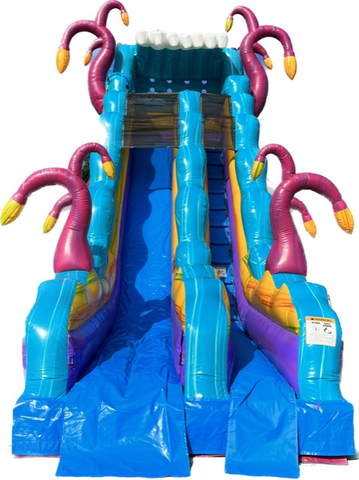 | | |
| --- | --- |
| Up to 4 Hours | $375.00 |
| 5 - 8 Hours | $431.25 |
| Overnight | $487.50 |
| 2 Day Rental | $562.50 |
Description
Introducing the 21' Mystico Dry Slide - Your Gateway to Magical Fun!
Are you ready to embark on an enchanting adventure right in your own backyard or event space in Memphis, TN? Look no further than our spectacular 21' Mystico Dry Slide, a magnificent inflatable wonder that promises endless thrills and unforgettable memories for all ages! This big dry slide is your ticket to a magical experience like no other.
Key Features:
1. Unleash the Magic: The Mystico Dry Slide is designed to transport you and your guests to a world of pure enchantment. With its vibrant colors, whimsical design, and towering height, it's impossible not to feel the magic in the air.
2. Safe and Exciting: Safety is our top priority. The Mystico Dry Slide boasts robust construction and safety features, ensuring a secure experience for all riders. Climb up with confidence and descend with pure exhilaration!
3. Perfect for All Ages: This inflatable slide is not just for kids; it's fun for the whole family! Whether you're planning a children's birthday party or a neighborhood block party, the Mystico Dry Slide guarantees hours of laughter and joy.
4. Easy Setup: Our inflatable slide for rent in Memphis, TN, is a breeze to set up. Our professional team will handle everything, leaving you more time to enjoy the festivities. Just watch as this colossal dry slide inflates and becomes the centerpiece of your event!
5. High-Quality Materials: Crafted from durable, high-quality materials, the Mystico Dry Slide is built to withstand hours of sliding, climbing, and play. Rain or shine, this slide is ready to perform.
6. Memorable Photos: Capture the magic with unforgettable photos and videos as riders descend down the Mystico Dry Slide. The look of pure joy on their faces is sure to be a cherished memory.
7. Perfect for Any Occasion: Whether it's a birthday celebration, a corporate event, a school carnival, or a community festival, this magical dry slide will elevate any gathering to a whole new level of fun.
8. Spacious Design: With its generous size, multiple lanes, and wide slide platform, the Mystico Dry Slide can accommodate a high volume of riders, reducing wait times and ensuring non-stop excitement.
9. Portable Fun: Hosting an event in Memphis, TN, and need entertainment on the go? Our inflatable slide is portable and can be set up at various locations, providing magical fun wherever you need it.
10. Unforgettable Memories: From the first ascent to the final descent, the 21' Mystico Dry Slide guarantees a day filled with laughter, adventure, and magical moments that will be cherished for years to come.
Don't miss out on the opportunity to bring the enchantment of the Mystico Dry Slide to your next event. Whether you're celebrating a special occasion or simply looking to create unforgettable memories, this inflatable slide for rent in Memphis, TN, is the key to unlocking a world of magical fun. Contact us today to reserve your date and let the enchantment begin!