Over the Rainbow Dry Slide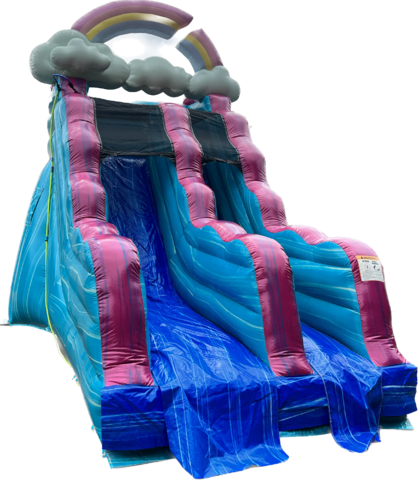 | | |
| --- | --- |
| Up to 4 Hours | $325.00 |
| 5 - 8 Hours | $373.75 |
| Overnight | $422.50 |
| 2 Day Rental | $487.50 |
Description
Introducing the "Over the Rainbow Dry Slide" - Your Ultimate Inflatable Adventure by Tiky Jumps Inflatables!
Are you ready to embark on a whimsical journey over the rainbow? Our Over the Rainbow Dry Slide is a dazzling and enchanting inflatable masterpiece that promises hours of fun, excitement, and unforgettable memories. Perfect for birthdays, parties, fundraisers, and events, this rainbow-themed inflatable slide is designed to captivate the hearts of children and adults alike.
Key Features:
1. Breathtaking Rainbow Design: The Over the Rainbow Dry Slide boasts a stunning and vibrant rainbow design that is sure to capture the imagination of everyone who sees it. Its vibrant colors, including shades of red, orange, yellow, green, blue, indigo, and violet, are meticulously crafted to mimic the beauty of a real rainbow.
2. Safe and Durable: Safety is our top priority, and our inflatable slides are constructed with high-quality, commercial-grade materials that are fire-resistant and lead-free. Rest assured that your loved ones will enjoy a safe and worry-free sliding experience.
3. Multiple Levels of Fun: This inflatable slide is equipped with multiple levels and a spacious sliding area. Climb to the top, take a deep breath, and let gravity do the rest. The thrilling descent will have participants giggling and racing back for more.
4. Suitable for All Ages: The Over the Rainbow Dry Slide is designed to accommodate a wide range of age groups, making it suitable for toddlers, children, teenagers, and even adults. It's perfect for family gatherings, school events, and community festivals.
5. Easy Setup and Takedown: Our experienced staff will handle the setup and takedown of the inflatable, ensuring a hassle-free experience for you. We take care of the heavy lifting so you can focus on enjoying the event.
6. Rental Options: Looking to add a splash of color to your event? Our rainbow inflatable slide is available for rental! Whether you're planning a birthday party for your little princess or a community carnival, we have flexible rental options to meet your needs.
7. Themed Parties: Hosting a girly-themed event? The Over the Rainbow Dry Slide is a fantastic addition to any "unicorn," "princess," or "fairy-tale" themed party. Pair it with pink decor for a delightful and cohesive aesthetic.
8. Unforgettable Memories: From the delighted screams as participants slide down to the laughter and joy shared by all, the Over the Rainbow Dry Slide is sure to create cherished memories that will last a lifetime. Capture those priceless moments with your camera and relive the magic.
Why Choose Over the Rainbow Dry Slide?
Unique Rainbow Design: Stand out from the crowd with this visually stunning inflatable slide.
Safe and Durable: Your safety is our priority, and our equipment meets the highest safety standards.
Inclusive Fun: Suitable for various age groups, ensuring everyone can join in on the fun.
Hassle-Free Rentals: We take care of everything, from delivery to setup and takedown.
Memorable Experiences: Create lasting memories with a magical slide adventure.
Whether you're planning a birthday celebration for your little princess or organizing a community event that needs a touch of enchantment, the Over the Rainbow Dry Slide is the perfect choice. Make your event truly special with this spectacular rainbow inflatable slide rental. Contact us today to reserve this incredible attraction and add a vibrant splash of color to your next event. Let the magic of the rainbow lead the way to unforgettable moments and smiles all around! Available for rental at any occassion or event by the 5-star Inflatable rental Company in Memphis, Tennessee - Tiky Jumps Inflatables.